3-D Printers Could Shape Future for Toymaker
MANUFACTURING: Mattel pitches pricey device for use at home by children.
Friday, July 15, 2016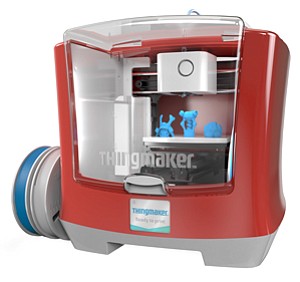 Mattel Inc. is getting ready to hand the keys of its toy-making factory to its customers.
The El Segundo company will release a $299 3-D printer, known as the ThingMaker, later this year, allowing children to create their own dolls, robots, and dinosaurs at home. The printer will hit the shelves of several retail giants, including Target Corp. and Best Buy in October. For now, it is available for preorder from Amazon.com Inc.
The push into 3-D technology could prove a smart move despite a risk that the new product could eat into Mattel's traditional toy sales.
"If you cannot create a product that will disrupt your current business, someone else will do it and take your business away," said Ira Kalb, assistant professor of clinical marketing at USC's Marshall School of Business. "Mattel is doing that, even though it might cannibalize its business."
The 3-D printing market is projected to hit $550 billion by 2025, according to McKinsey Global Institute research. Of that, just under 20 percent is projected to be generated by consumer products such as dolls and toys.
Mattel, maker of Barbie and American Girl dolls as well as Matchbox and Hot Wheels cars, has struggled of late. It earned $369.4 million last year on revenue of $5.7 billion, a 26 percent decline from a year earlier. It also lost out last year to rival toymaker Hasbro Inc. for the rights to make dolls from Walt Disney Co. blockbuster "Frozen."
Raised concerns
The introduction of ThingMaker is seen as an effort to boost Mattel's flagging sales, though its price point has raised concerns.
"I don't think a lot of people will buy a $300 toy for their children," said Jaime Katz, an analyst with Morningstar Inc. in Chicago. "It's an expensive product and I don't see it in every American home."
And buying into the ThingMaker could get even more expensive.
Families will need to purchase accessories and material to make 3-D toys, another revenue stream for the toymaker. The company will sell specialized plastic for $14.99 a package, enough to produce 10 6-inch figures. Mattel said it would allow products from its flagship brands to be printed by the end of the year.
"Once parents buy a printer, they have to buy the material," said USC's Kalb. "Mattel will make money from the material as well."
Printing toys is not going to be a fast process. It takes up to up to 10 hours to make a 6-inch figure, a potential problem for impatient young consumers.
"If it takes a whole day to create a toy, it is going to create a lot of frustration for young children," said Morningstar's Katz. "If my child wants a toy, he doesn't want to wait 10 hours."
But the company is putting a positive spin on the amount of hours it takes to produce a plaything.
"You can set up your design to print before you go to bed and when you wake up, your toy will be waiting for you," wrote Mark Morse, director of global brand marketing at Mattel, in an email. "Every morning can be Christmas morning."
Rival players
Mattel is not the only player that matches 3-D printing with the toy industry.
Rival Hasbro, which owns the Transformers and My Little Pony brands, filed for a patent earlier this year for an iPhone 3-D scanner that can turn toys into avatars or send them to a printer. The product is not available for sale yet.
London-based Makies allows users to customize a doll or toy online and have it shipped to the consumer for $100.
Neither Hasbro nor Makies responded to requests to comment.
However, Mattel remains the only company that will offer at-home toymaking on a mass scale.
Analysts believe if the product succeeds, competitors will follow Mattel's example.
"If the product works, competitors will follow with something similar," said Katz. "If it is really starting to take off and getting adapted, Mattel's competitors might start playing in the same category."
For reprint and licensing requests for this article, CLICK HERE.