Warner Bros. Settles with FTC Over Undisclosed Promotions
Monday, July 11, 2016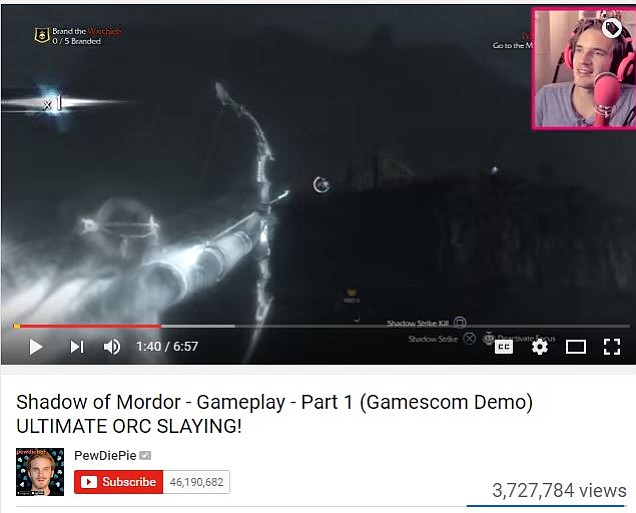 Burbank-based Warner Bros. Home Entertainment has settled charges with the Federal Trade Commission after reportedly failing to adequately disclose an online marketing campaign for the late-2014 release of role-playing video game Middle-earth: Shadow of Mordor, the FTC announced Monday.
The FTC complaint said Warner Bros. paid online influencers from hundreds to tens of thousands of dollars to create sponsored videos, but failed to ensure that these paid influencers clearly and conspicuously included sponsorship disclosures.
"Consumers have the right to know if reviewers are providing their own opinions or paid sales pitches," said Jessica Rich, a director at the FTC, in a statement. "Companies like Warner Bros. need to be straight with consumers in their online ad campaigns."
In addition to payment, Warner Bros. gave each influencer an advance-release version of the game for free with instructions on positively promoting the item in a video to be posted on YouTube and other social media.
Swedish web-based video producer PewDiePie was among the influencers hired to promote Middle-earth. His video has been viewed more than 3.7 million times. The sponsored videos were viewed in total more than 5.5 million times, according to the FTC.
The government agency announced a proposed order on Monday barring Warner Bros. from misrepresenting sponsored content in the future as the objective and independent opinions of video game enthusiasts – namely the online community of influencers.
In March New York-based fashion retailer Lord & Taylor settled similar charges with the FTC after it allegedly paid online fashion influencers to post images on Instagram wearing dresses from the retailer's newest collection without identifying the content as sponsored.
In both cases, the sponsored content was preapproved by the company paying the influencers.
Violations of an FTC order may result in a civil penalty of up to $16,000 and could carry the force of law with respect to future actions.
Warner Bros. is a division of New York-based Time Warner Inc. Shares of Time Warner stock were up less than one percent Monday from their previous close.
Staff reporter Jonathan Ponciano can be reached at jponciano@labusinessjournal.com. Follow him on Twitter @jon_ponciano.
For reprint and licensing requests for this article, CLICK HERE.