Surf Air Adds Routes in Europe
Friday, July 8, 2016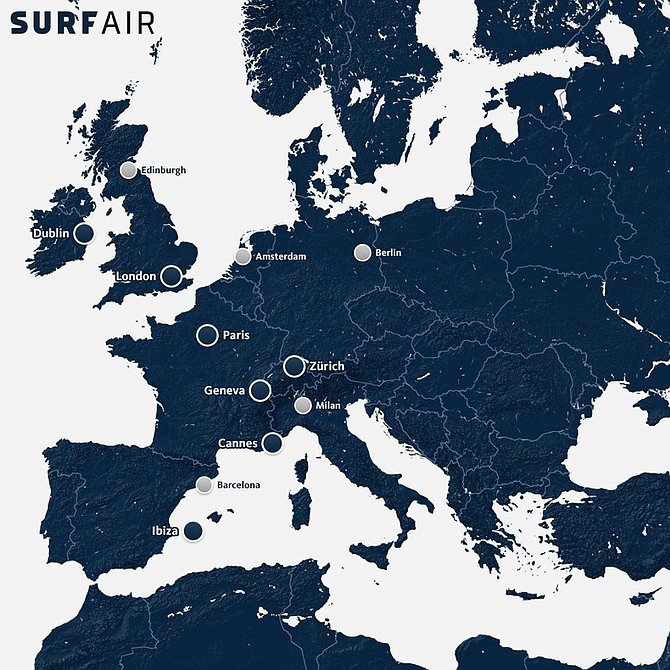 All-you-can-fly subscription airline Surf Air will start flying several routes in Europe starting this October.
The Santa Monica-based airline will fly between London, Cannes, France, Geneva, and Zurich. Members of the service will pay a monthly fee of about $3,200, which will allow them to fly an unlimited amount of times.
Surf Air aims to provide the convenience and speed of a privately chartered aircraft at a lower cost by having its customers share the cost of operations through a monthly membership. In and around California, the airline operates out of 13 small airports, such as Hawthorne Municipal Airport in Los Angeles and San Carlos County Airport in the Bay Area. Membership in California costs $1,950 a month.
The airline decided to expand to Europe because it saw a similar need to facilitate travel for time-pressed professionals between major business hubs. It has plans to expand to Dublin, Paris, Amsterdam, and Barcelona in 2017.
"California was a great place to start, but one of the things we've learned over the last three years is that this model can be easily be replicated in different regions," said Jeff Potter, chief executive of Surf Air. "The demographics (in Europe) are very similar. London is a business hub for Europe, along with Geneva, Cannes and Zurich. It has a lot of fundamentals we look for."
The company will charge more for membership in Europe because its routes will be longer and will be flown by a more expensive jet aircraft, instead of the eight-passenger, single-engine turbo prop Pilatus PC-12s it uses now.
So as to get off the ground quickly and save money by foregoing purchasing new aircraft, Surf Air's European jet planes will be operated and owned by TAG Aviation, a Switzerland-based charter aircraft company. The company will run sales and marketing operations.
Technology reporter Garrett Reim can be reached at greim@labusinessjournal.com. Follow @garrettreim on Twitter for the latest in L.A. tech news.
For reprint and licensing requests for this article, CLICK HERE.