Apparel Maker Folds Schedule
CLOTHING: Hale Bob drops calendar for see now, buy now.
Friday, July 8, 2016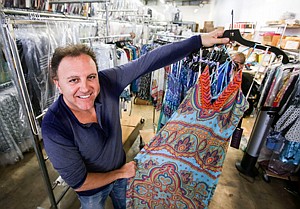 Models strutted down the runway showing off brightly patterned dresses and tops for the latest collection of L.A. fashion label Hale Bob – except there was a scheduling issue: The women sported the brand's summer collection while the rest of the fashion world was busy showing its fall-winter designs.
It was no mix up. Hale Bob has ditched the traditional fashion business model for the growing trend of see now, buy now.
Daniel Bohbot, founder of Hale Bob, said brick-and-mortar retailers are hurting and shoppers continue to shift toward e-commerce so it became clear the company needed to change.
"I don't believe people will continue to present collections six months in advance because the consumer is not going to wait six months anymore," Bohbot said. "That's why the concept of buy now, wear now is for me the new way to do business."

Instead of showing collections six months before they're available in stores, fashion brands are catering to consumers, allowing them to shop a collection immediately after it's shown while matching up with the weather.
The idea is simple, but it remains a topic of debate in the industry, where there is concern about putting the power in the hands of consumers and offering a more practical collection schedule.
British luxury label Burberry first caused the shake-up when it announced in February all collections would follow the see now, buy now concept. Designers from Tom Ford to Alice & Olivia and Rebecca Minkoff followed suit. And the trend has found its way into the walls of the unmarked, dark gray warehouse of Hale Bob near Rampart Village.
Nikki Baird, managing partner at Miami's Retail Systems Research, said larger brands would see more success with see now, buy now as they can afford risks associated with carrying extra inventory and changing production cycles.
"Somebody who is trying to break into J.C. Penney, for example, this is not a strategy for them," Baird said. "It's probably easier upmarket. You can afford to take some risks because you've got enough margin in your brand."
Going it alone
Hale Bob was founded in 2001 by Bohbot. He spent the previous 10 years handling importing and distribution for his older brother Marc Bohbot and sister-in-law Michele's Bisou Bisou fashion line.
Bohbot said the first five years at Hale Bob were focused exclusively on manufacturing silk tops because he noticed many women lacked fashionable garments to go with their premium denim – a trend that was gaining traction at the time.
The line – often spotted on Amal Clooney, Cindy Crawford, and Eva Longoria – has since expanded its offering to include dresses and pants.
It produces 12 collections a year with two major fashion shows. However, it will turn to a new concept this year by presenting collections in 10 cities such as Boston, Miami, and New York.
The company is making a bigger push into accessories as well. It signed a licensing deal this month to develop shoes, handbags, luggage, and home goods that will launch within a year. It also debuted its first namesake perfume this month.
Bohbot said the business has long depended on growing wholesale accounts, and he has yet to see retailers recover to the heyday before the 2008 recession.
"The business has totally turned from a regular business of going to retail to the internet," he said. "I think it's an amazing opportunity because today you have the chance to reach the final consumer directly. There is no chain of people in between."
That is why he decided to shift his business to the see now, buy now model with his most recent show, held in March at the Pacific Design Center in West Hollywood.

While other brands displayed their fall-winter collections, Hale Bob launched a summer line that was marketed to those heading to the Coachella Valley Music and Arts Festival.
Items on the runaway were immediately available for purchase online. Bohbot said several pieces quickly sold out after the show. He declined to state revenue, but said 35 percent of the firm's business is online and that number continues to grow each year.
Hale Bob is now gearing up to present its fall-winter collection next month.
"In fashion, you're always observing the trends," he said.
New trumps old
The instant gratification of see now, buy now might make sense for brands wanting to reach their consumers, but there are risks.
For example, rather than wait for buyers to place their orders and then start production, Hale Bob will produce items in advance, betting on consumers to buy as well as retailers. And while shoppers can purchase immediately, retailers have a lead time of about three months, Bohbot said.
Frances Harder, president of L.A.'s Fashion Business Inc., a nonprofit serving fashion firms, said it can be tricky.
"You have to estimate how much you're going to be selling," Harder said. "It could be successful but there's a risk when producing before you sell."
But she added that the risk can be lessened if the initial production run is small. She also said retailers have the added benefit of being exposed to merchandise that is in line with the weather.
"They can buy on time," she said. "(Retailers) are depending on the weather, how the economy is doing, and trends. They're all thinking much more immediate than they are six months in advance."
Sidney Morgan-Petro, retail editor with New York trend forecasting agency WGSN, said the debate is split between what she calls dreamers and realists.
"The dreamers represent many of the European luxury brands, among others, who believe in creating a desire around a product and therefore having to wait for it," Morgan-Petro said. "Realists realize the longer they wait from showing a product on a runway to putting it in stores, the easier it will be for fast-fashion brands to imitate their product or for consumer desire to diminish."
Bohbot said the immediacy that online shopping offers to consumers is partly why the company shuttered its L.A. retail store on Robertson Boulevard last year, which saw slowing foot traffic. While the company wants to launch a shop in Los Angeles next year, he believes the location will serve more as a destination for tourists and locale for hosting special events.
Retail Systems Research's Baird said the concept behind see now, buy now speaks to a new consumer sentiment of being the first to buy an item or spot a trend.
"It's that whole distance between when somebody sees something and says I really want that to when they can actually get it," she said. "I think there's a lot of advantage to making that distance as small as possible."
For reprint and licensing requests for this article, CLICK HERE.