Apparel Maker Folds Schedule
CLOTHING: Hale Bob drops calendar for see now, buy now.
Friday, July 8, 2016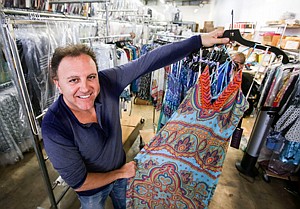 Models strutted down the runway showing off brightly patterned dresses and tops for the latest collection of L.A. fashion label Hale Bob – except there was a scheduling issue: The women sported the brand's summer collection while the rest of the fashion world was busy showing its fall-winter designs.
It was no mix up. Hale Bob has ditched the traditional fashion business model for the growing trend of see now, buy now.
Daniel Bohbot, founder of Hale Bob, said brick-and-mortar retailers are hurting and shoppers continue to shift toward e-commerce so it became clear the company needed to change.
"I don't believe people will continue to present collections six months in advance because the consumer is not going to wait six months anymore," Bohbot said. "That's why the concept of buy now, wear now is for me the new way to do business."

Instead of showing collections six months before they're available in stores, fashion brands are catering to consumers, allowing them to shop a collection immediately after it's shown while matching up with the weather.
The idea is simple, but it remains a topic of debate in the industry, where there is concern about putting the power in the hands of consumers and offering a more practical collection schedule.
British luxury label Burberry first caused the shake-up when it announced in February all collections would follow the see now, buy now concept. Designers from Tom Ford to Alice & Olivia and Rebecca Minkoff followed suit. And the trend has found its way into the walls of the unmarked, dark gray warehouse of Hale Bob near Rampart Village.
Nikki Baird, managing partner at Miami's Retail Systems Research, said larger brands would see more success with see now, buy now as they can afford risks associated with carrying extra inventory and changing production cycles.
"Somebody who is trying to break into J.C. Penney, for example, this is not a strategy for them," Baird said. "It's probably easier upmarket. You can afford to take some risks because you've got enough margin in your brand."
Going it alone
Hale Bob was founded in 2001 by Bohbot. He spent the previous 10 years handling importing and distribution for his older brother Marc Bohbot and sister-in-law Michele's Bisou Bisou fashion line.
Bohbot said the first five years at Hale Bob were focused exclusively on manufacturing silk tops because he noticed many women lacked fashionable garments to go with their premium denim – a trend that was gaining traction at the time.
Prev Next
For reprint and licensing requests for this article, CLICK HERE.