Way In on Way Out?
FINANCE: Developers fear short stay for EB-5 visa program that serves as low-cost funding source for projects.
Originally published January 29, 2016 at 11:35 a.m., updated January 29, 2016 at 11:35 a.m.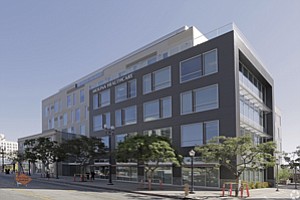 This article has been changed from the original to reflect corrections.
Local businesses are reaping the benefits of the federal government's just extended EB-5 visa program, which has pumped tens of millions of dollars into Los Angeles County.
Among the beneficiaries is Long Beach's Molina Healthcare Inc., which might have had to move its information technology center out of the county without it.
After the Affordable Care Act passed, the company anticipated it would need at least 1,000 more employees to keep up with the boost in demand for medical services. But its Long Beach headquarters wasn't big enough to handle projected growth.
Molina had its eye on a roughly three-acre plot owned by developer Millworks about a mile away, but there was one big problem: The developer needed an affordable $35 million loan to make renovations possible.

Fortunately for Molina, Barbara Levine, a regional manager at the Los Angeles County Economic Development Corp., suggested Millworks try EB-5, a federal program that allows foreigners to obtain green cards if they invest between $500,000 and $1 million in job-creating U.S. projects.
That advice proved to be critical for the project, which received the $35 million it needed from 70 foreign investors at a very low interest rate, Levine said.
Molina executives did not return inquiries.
"That really saved the project," she said. "It helped them get the deal done."
Millworks, which created a separate entity – Sixth and Pine Development – for the Long Beach project, is now looking for other development opportunities, Levine said. And because EB-5 funding often offers capital at better rates than traditional methods, Millworks hopes to use the program again.
"You certainly need financing in place to get something done," Levine said. "EB-5 is a good opportunity for developers and an incredible tool."
But up until last month, it was unclear whether Congress would extend the visa program, largely because it had been used in some instances to defraud foreign investors.
Yet despite the controversies, Congress voted last month to keep the program through Sept. 30. Still, that deadline is not that far away and the future of EB-5 remains uncertain.
Slow start
The EB-5 program dates back to President George H.W. Bush's time in the White House, but it went largely ignored for several years after launching in 1990.
But the popularity of EB-5 surged in the wake of the most recent economic downturn, when real estate developers' access to capital had been drastically curtailed.
At the time, China's economy was booming and many developers saw an opportunity to tap new sources of money from wealthy investors.
Under the program, which is particularly popular among the Chinese, foreign investors – and their immediate family members – get a visa that can be turned into permanent residency with a green card. The investment must create a certain number of jobs and meet other thresholds.
The federal government, which caps the number of visas issued through EB-5 at 10,000 a year, hit its annual limit for the first time in 2014 – and again last year.
Despite its popularity, though, some lawmakers want to put an end to the program or, at the very least, add regulations to limit abuses.
Indeed, the Securities and Exchange Commission has increased efforts to crack down on fraud related to the program. For instance, the commission filed civil charges in 2014 against Justin M. Lee, a former immigration attorney in L.A.'s Koreatown who bilked dozens of foreign investors out of millions of dollars.
A federal judge determined Lee, who was also convicted in South Korea, coaxed investors into bankrolling his plan – which didn't exist – to build several biofuel projects throughout the United States.
Lee was ordered to pay the SEC $8.3 million last November.
"Like many other security offerings in the U.S., there's the possibility of an affinity for fraud when you're dealing with people who aren't from the U.S.," said Catherine DeBono Holmes, chairwoman of the investment capital law group at Century City's Jeffer Mangels Butler & Mitchell.
Even so, Holmes said the highly publicized EB-5 fraud cases do not represent the full picture and the program's benefits should not be ignored.
"Look at Los Angeles; our city government wants lots of downtown hotels and multifamily development because that's what fuels the economy," she said. "I don't believe that Congress would terminate a program that has proven to allow billions of dollars to come into the United States to build projects."
Looming uncertainty
Although the U.S. economy has improved in recent years and developers have more access to capital, EB-5 remains a popular funding source because of its relatively low interest rates for American borrowers.
It's not uncommon for traditional lenders to charge 20 percent a year – or more – in annual interest, Holmes said, whereas EB-5 funding typically charges no more than 7 percent.
That perk is a big reason why Seattle developer American Life Inc. used the program when it built the combined Marriott Courtyard and Residence Inn hotel across from L.A. Live in downtown Los Angeles. The company paid $168 million to build the hotel, which opened in 2014, and 90 percent of that money was from EB-5 investors, according to American Life President Greg Steinhauer.
American Life is now raising capital for another hotel, which is expected to open in Seattle next year, Steinhauer said. The plan is to use EB-5 money to fund about 70 percent of the project.
So far, the company has raised about $170 million, but Steinhauer said he's still looking to add an additional $20 million from the program's participants.
"If Congress hadn't extended the program, we would have to raise it a different way," he said. "We'd be able to raise it through other sources, but in this case, for us, the cost of EB-5 capital is less than traditional sources."
Though he's thankful lawmakers did extend EB-5, Steinhauer said he's not yet convinced Congress will offer another renewal come September.
"The uncertainty that surrounded the program before still exists," he said. "Any time there's uncertainty around the program, it's reflected in the pace of fundraising. … It just pushes back toward more traditional capital sources."
For reprint and licensing requests for this article, CLICK HERE.