SPECIAL REPORT: New Scene Checks In
Once known for rock 'n' roll excess, Sunset Strip now making room for hotel developments aimed at reviving area as must-visit destination.
Monday, January 25, 2016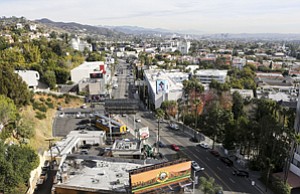 Over the decades, the Sunset Strip has witnessed Jim Morrison dangle out of a hotel window, Tower Records become a global landmark and River Phoenix die of a drug overdose.
Now a new era is beginning for the legendary area as real estate developers look to bank on the boulevard's storied past of celebrity and counterculture.
After three decades without major construction, several multistory projects have broken ground and are pushing up the Strip's skyline. Sleek new buildings with rooftop pools and public plazas will add more than 758 hotel rooms and 254 residences on Sunset Boulevard. Altogether, they represent an estimated value of $1 billion. At least two other complexes are in development as well, including a Frank Gehry design.
Backed by major companies, these projects will inevitably transform both the economy and culture of the iconic mile-and-a half section of Sunset.
"Sunset has gone through so many changes over the years, from the hippies and punk rockers to the hair bands and the cruising. … And now it's on to its next incarnation," said Lee Maen of Innovative Dining Group, whose swanky restaurants such as Katana attract hip customers on the Strip.
"People are really looking at the Sunset Strip for the next big frontier," he said.
It's not that the Strip is bereft of 100-thread-count sheets in which to wrap weary travelers. Seven hotels, including the Andaz West Hollywood, once the notorious "Riot House" Hyatt hotel, make their home on Sunset, with a couple of others just off the boulevard. But they are already operating nearly at capacity.
High demand
The average West Hollywood hotel occupancy rate was 82.6 percent in the first half of last year – and some Strip hotels saw occupancy as high as 90 percent. Hoteliers consider 70 percent a sign of strong demand.
The newcomers will increase West Hollywood's hotel roster by 36 percent, and experts such as Alan X. Reay, president of Irvine's Atlas Hospitality Group, welcome the boom.
"There isn't any threat that we could oversupply the market," he said.
The particular appeal of the Strip – where tattoo parlors, cigar shops and psychics are walking distance from $22 cocktails garnished with edible gold leaf – derives from its international reputation as an entertainment capital. As a must-see tourist attraction, it is a "proven commodity," said broker Nico Vilgiate, who works at Colliers International's downtown L.A. office, prompting investors to fill in the "dilapidated areas and build up."
Prev Next
For reprint and licensing requests for this article, CLICK HERE.