Crossing Over
Mall developer Rick Caruso is sold on bringing concierge service to office workers
Monday, January 11, 2016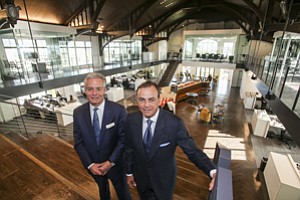 Rick Caruso is known as L.A.'s shopping mall master developer. But now he's moving into new territory: the office market.
What's more, the 56-year-old chief executive of Caruso Affiliated is bringing five-star hotel-style service to that sector. So a worker in his office building could get a deskside pedicure while other concierges fetch her groceries and plan her vacation. All would be free to her.
"What I'm focused on more than anything is hospitality," he said. He already has concierges in his retail and residential properties. "It's logical to next bring it to office."
The just-opened Masonic Temple, his renovated office building in Glendale, is his incubator. The largest real estate firm in the world, downtown L.A.'s CBRE Group Inc., is the tenant leasing the majority of the space. Caruso is leaning on his adjacent Americana at Brand retail property, which already has concierges, to help provide service to the office workers.
Using an app with the logo of the temple's arches, CBRE workers at the Masonic Temple can summon a concierge in a freshly pressed tailored suit to take care of their dry cleaning, fill their cars with gasoline, get lunch delivered as well as provide other services that Caruso said have never been offered before by an office landlord.
The temple, Caruso said, is the first of what will be many Caruso-owned office properties that offer such service. He's already on the hunt for his next office pickup. Smart office landlords might try to duplicate the service, he said, but few if any have both the retail prowess and the service culture to pull it off.
"The service of people is a great art and it makes people's lives a little bit better," he said. "You can buy goods and services anywhere, but the experience and service at the Grove and the Americana make people want to be there."
Sitting on a couch in the Masonic lobby in a blue suit as elegant and organized as one of his buildings, Caruso said, "It's really the only way you can differentiate yourself. You can try on price, but that's a race to the bottom."
Opening day
There was a sparkle in Caruso's eye from the moment he walked through the arched entrance at 234 S. Brand Blvd. and found Masonic alive with the energy of Jan. 4's move-in day; 118 employees relocated from CBRE's Universal City office.
"I'd been trying to buy it since we built the Americana," he said of the nearby mall, which was completed in 2008, six years after the opening of the Grove, his open-air mall in L.A.'s Fairfax District.
For reprint and licensing requests for this article, CLICK HERE.
Prev Next