Vintage Makeup Finds New Life in Distribution
BEAUTY: Niche strategy of looking toward past pays off for Besame Cosmetics.
Monday, January 4, 2016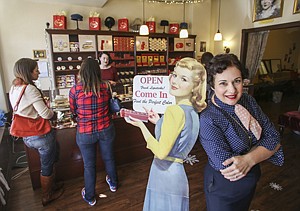 The lipstick tubes made by Burbank's Besame Cosmetics Inc. are shaped like gold bullets, but the company started off firing blanks.
The luxury makeup brand, whose name means "kiss me" in Spanish, developed a small cult following when it launched online 11 years ago, but it struggled to expand distribution outside of boutique shops.
The company has seen explosive growth over the past year, however, as sales have tripled. And it recently snagged distribution deals with Paris beauty chain Sephora and retailer Anthropologie, a subsidiary of Philadelphia's Urban Outfitters Inc.
Gabriela Hernandez, Besame's co-founder and chief executive, said it was an uphill battle in the early days as mainstream retailers dismissed the vintage-inspired cosmetics line as a novelty.
"People didn't think we would last because it was just too out there, too much with a point of view," Hernandez said. "It wasn't general market enough."
Besame's products take their cue from old Hollywood glamour – from historically accurate lipstick shades down to packaging design. For example, its 1939 Red Hot Red lipstick is the same shade of red that was popular that year.
The company's attention to design and color has made it a favorite among Hollywood makeup artists. Its products have coated the lips of musician Lady Gaga in television series "American Horror Story" and actor Eddie Redmayne, who wears Besame's lipstick in transgender film "The Danish Girl."
Besame products are designed and manufactured in Los Angeles by a contractor. Prices range from $20 for cream mascara to $68 for a 50 milliliter bottle of perfume. Lipstick retails for $22, pricey but not super expensive.
While the company's vintage aesthetic might have fallen flat with retailers at first, shoppers are now spending more money on niche makeup brands with strong identities such as L.A. firms Ilia Beauty, known for natural and organic lip products, and RGB Cosmetics, which touts nail color free of carcinogens.
Shannon Romanowski, category manager of health, household, beauty and personal care for London research firm Mintel Group, said beauty's big players such as Revlon and L'Oréal Group command more shelf space and sales but they don't have the same kind of devoted followers as smaller labels.
"These brands are really able to get that loyal, strong following," Romanowski said. "So, it may not be a big group, but it's a powerful group. Even Target and Wal-Mart are starting to carry these niche higher-end brands."
Old is new
Prev Next
For reprint and licensing requests for this article, CLICK HERE.