Tapping In
Arts District bottling up craft breweries
Monday, January 4, 2016
A few years ago, buying a beer at the 17,000-square-foot Traction Avenue home of Crazy Gideon's Electronics in downtown L.A.'s Arts District would have seemed, well, crazy.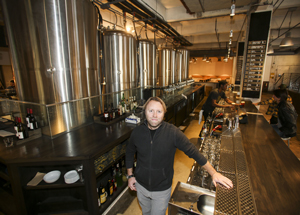 "Some neighbors say, 'I remember buying my VCR here,'" said brewery owner Eric Needleman of the store made famous in local TV commercials.
But now Needleman and his business partner have rented out the space from its wacky owner and repurposed it for a type of business taking the neighborhood by storm.
The mammoth space reopened last month as Arts District Brewery Co. – a brewing facility, restaurant and pub backed by Needleman and Cedd Moses, two of the key forces behind Seven Grand, the Varnish, Tony's and about a dozen cocktail bars throughout the L.A. area.
This represents a new venture for the pair, as evidenced by six steel tanks installed at the center of the building.
"We saw beer sales skewing toward craft and that was a light bulb moment," Needleman said on a recent afternoon at the brewery.
By the end of this year, the Arts District will be home to five breweries, all within a one-mile radius. In addition to Arts District Brewery and Angel City Brewery, which pioneered the area's beer scene when it opened in 2013, Mumford Brewing Co. calls a spot on East Third Street home and Boomtown Brewery sits not far away on Jackson Street. A little farther to the south, Iron Triangle Brewing Co., which reportedly has plans to become L.A.'s largest craft brewer, will occupy a 40,000-square-foot space when it opens this year. Meanwhile, Indie Brewing Co. and Dry River Brewing have staked out locations across the river in Boyle Heights.
In fact, the number of breweries in the Arts District now exceeds that of Torrance, which is often thought of as L.A.'s craft beer hub.
Despite the influx, brewers such as Needleman have welcomed rather than fretted about the growing number of competitors.
"We're all very different, but we're all in the same boat," he said, as an afternoon crowd trickled into the brewery to play skee ball and sample one or more of the 12 beers brewed on site.
Catching up
While there are now more than 40 breweries in Los Angeles County – a number that's more than doubled since January 2014 – the local industry still lags far behind the robust San Diego County brewing scene in terms of revenue.
Prev Next
For reprint and licensing requests for this article, CLICK HERE.