Hospital Checkup
New chief exec gives his prognosis for making Daughters of Charity still work as nonprofit.
Monday, January 4, 2016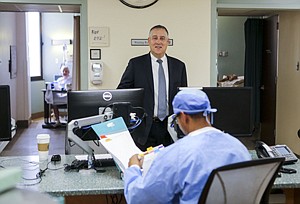 After two tumultuous years searching for a new manager or buyer, the cash-strapped Daughters of Charity Health System struck a multilayered deal with New York private investment firm BlueMountain Capital Management in July.
Yet when the California attorney general attached some stringent stipulations before giving it the green light last month, BlueMountain didn't balk, unlike previous suitor Prime Healthcare Services. So now what?
The Bay Area-based health system, whose six hospitals include Lynwood's St. Francis Medical Center and St. Vincent Medical Center in downtown Los Angeles, will remain a nonprofit. But it gets a new name (Verity Health System), a $250 million capital infusion and a new management company: BlueMountain subsidiary Integrity Healthcare.
It also gets a new chief executive, Mitchell Creem, who's held executive posts at academic medical centers such as Keck Hospital of USC and UCLA Health System. He faces the daunting task of fixing a fragile system that had been teetering on the edge of bankruptcy for a long time.
We sat down with Creem, who will split his time between Northern and Southern California, at Verity's downtown office across from St. Vincent to discuss taking over the beleaguered system and what comes next.
Question: Why take on a health system that had been in such trouble?
Answer: I had spent probably the last 20 years of my career helping hospitals get back on their feet. That's always appealing to me. Each one of these hospitals has a very important place in the community providing care. Each one of these hospitals at some point in its history has been a preeminent provider, and it's just very exciting to be part of this renaissance and rebirth.
How will this role be different from your other executive positions you've had at places such as USC, UCLA and others on the East Coast?
What's different is the span of the geography. We have six medical entities ranging from Daly City south of San Francisco to St. Francis in Lynwood. And each one is in a totally different market. So each hospital is going to have its own strategy and that will include finding sets of partners in those markets to provide an integrated set of health care services within their service area.
What changes can patients and staff expect to see at St. Vincent and St. Francis?
First and foremost, we're going to fix the elevators at St. Vincent's. That's a hot topic for everybody. It's been a chronic problem. So even though that's important and it feels like a joke, what they're going to see is a lot of investment in plant and facilities to modernize the patient care areas and the clinical equipment that's available for diagnosis and treatment. They'll see a lot of new young doctors at the facilities, new marketing campaigns and better access to the facilities.
What will Verity do to increase revenue and cut expenses?
On the revenue side, there are two components. One is doing a better job billing and collecting. But more important is recruiting new young doctors in various specialty groups and making the right investments in clinical programs, both in facilities and equipment, and developing the right partnerships with payers and other providers in the market. And on the expense side, managing our costs better. We found an opportunity to do a better job with group purchasing for the system so we can get better pricing on operating room supplies and other types of medical supplies, on our pharmacy, our cost of drugs.
Some observers have noted Integrity's annual management fee, which is about 4 percent of annual operating revenue, or more than $55 million for essentially the four executives that Integrity is providing. How do you justify that price tag?
That money is not for us. But before we get into the 4 percent, I should point out how the management fee is earned. The fee is 1 percent and then the rest of it is triggered by a series of milestones that have to be achieved. That includes a certain number of days of cash on hand, meeting turnaround targets, a certain amount of Ebitda. It won't get paid until after the pension is funded, until after the debt service and capital commitments are made. So that 4 percent doesn't start coming until the system is really pretty successful. And at that point, BlueMountain will be considering its purchase option. So it wouldn't be clear how long that fee would last anyway.
It's not just for the four executives?
Part of it is the BlueMountain return on investment. There will be other expenses in the company other than us including overhead related to the office, the other types of real estate leases that we could have in here, IT services that we'll provide and we'll be adding more people over time to this office.
Given that BlueMountain stands to make money from managing the hospitals, and could eventually buy them, how do you justify Verity's nonprofit status?
This is a very unique deal, truly a public-private partnership. BlueMountain performed yeoman's work trying to figure out how can we help infuse capital into a nonprofit system, keep it nonprofit, maintain all the advantages of a nonprofit with a lower tax rate on nonprofit municipal bonds during a period in time where the system's very fragile financially. The whole idea of the option is that if the system did well, BlueMountain could have the opportunity to buy it in the future. There's no profit-taking on BlueMountain's part during the period in which it's not for profit. There's nothing in this deal that would violate the tax status of the system. All the management fees are within normal ranges of the types of management fees that get charged for management companies.
What appealed to you about working with BlueMountain?
What was exciting about BlueMountain when I met them was that they shared the same vision of building an integrated health care community. They have investment holdings in nursing homes and postacute (facilities) and I was coming from the acute care world. We were talking about the same vision about how one day we could see an integrated continuum of health care providers including primary care, hospital care, nursing home care, rehabilitative care – the full spectrum of health care services. And some of the campuses are perfect settings to provide the full continuum. We can become a very contemporary, very relevant player in these markets by offering that full continuum.
For reprint and licensing requests for this article, CLICK HERE.