Vet Attorney Sees Different CEQA Environment
DEVELOPMENT: Business rivals now use activist tool to slow down, kill projects.
Monday, February 29, 2016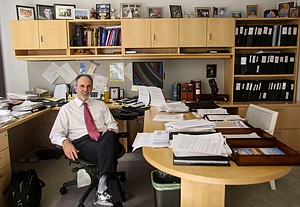 Activists have long sued proposed developments under California's environmental regulations. But lately, an increasing number of businesses are filing complaints to slow down competitors' projects, claims veteran attorney Edward Casey.
He says a string of recent cases has been dragged through the courts with the sole aim of making rivals miss deadlines and run up expensive bills.
Such lawsuits are part of an ongoing pattern of abuse of the 40-year-old California Environmental Quality Act, according to the litigator at the downtown L.A. office of Alston & Bird.
"It was well-intentioned when CEQA was first approved," Casey said. "But over the years, various statutes led to CEQA abuse. People who bring them have no concern for the environmental impact."
He added that one such case came when he recently defended a developer of a multiresidential center near the 405 and 10 freeways for possible adverse environmental effects. Casey declined to disclose that client's name.
"A lot of my clients get frustrated over the fact that they're asked to solve environmental problems that they're not causing," according to Casey, who said he has successfully defended developers of museums, landfills and water recycling facilities in 20 CEQA lawsuits.
Changing motives
CEQA requires businesses and public agencies to identify the environmental impact of their projects and find ways to alleviate any potential consequences.
For many years, CEQA lawsuits were traditionally filed by homeowner groups or activists such as the national environmental organization Sierra Club. But today, Casey sees a growing number of lawsuits filed by competitors who see a business advantage in the delays and economic consequences caused by their rivals getting tied up in legal bureaucracy. Business owners put on the defensive by such lawsuits are forced to spend money on environmental studies, which could otherwise go toward their project development.
Experts who conduct some of those environmental studies have grown as frustrated "because those kinds of studies are based on hypothetical assumptions," added Casey, who is listed in the 2016 edition of peer review guide "Best Lawyers in America."
One of the biggest challenges for any business owner who starts a development is that anyone can bring a CEQA lawsuit against the project.
"In other lawsuits, you have to be harmed, you have to show some beneficial interest to qualify as a plaintiff," said Casey. "In a CEQA case, anyone can sue you."
The low cost, compared with other types of lawsuits, allows a plaintiff to drag a business through the courts. The entire case can be based on public records gathered during the permitting process, which plaintiffs can obtain for free.
On top of that, plaintiffs who win can get attorney fees paid. But if defendants win, they don't get their fees paid by the other side.
It also doesn't help that judges favor public projects over private ones, Casey said. When judges handle a CEQA case, they look at public agency projects with a better opinion.
"They have to follow the exact same legal requirement," he said, "but the water recycling project will get a better shake from a judge then a shopping mall."
Legal challenges
But sometimes even seemingly publicly beneficial projects get challenged in court.
In 2011, Casey represented Playa Capital Co., a developer sued for building a planned community in Playa Vista that included residential units, large retail projects and creative space. The project received wide support from local residents but it still was challenged in court for contributing to traffic and global warming problems.

Casey said he and his team won the lawsuit, but his client grew frustrated by how long it took – three years – to get plans approved.
"It was a shame that it was on hold in court for so long" he said.
Over the years, he has also defended a developer of a major residential project near light-rail transit stations, retail centers built by shopping center developer Westfield Group and represented a water agency that sought to increase groundwater pumping in response to severe drought conditions.
Casey said the key to his success is being with his client from the start of the court process.
"If you don't bring your CEQA litigator in before your project was approved to make sure all the documents are at the best they can be, you're putting your project at great risk," he said.
He has also coached his clients to be patient.
"My clients understand that it takes a long time to develop a project in the Los Angeles area," added Casey, who is a board member of the Los Angeles County Economic Development Corp.
For reprint and licensing requests for this article, CLICK HERE.