Looking Up
Virgin Galactic in race to take tourists to space
Sunday, February 28, 2016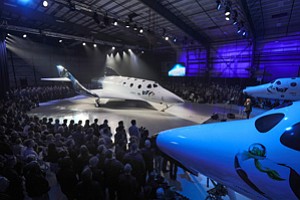 When Virgin Galactic's SpaceShipTwo crashed and burned in the Mojave Desert in October 2014, killing one test pilot and seriously injuring another, it wasn't clear if the company would go on.
But the Long Beach aerospace firm is pushing forward. Its replacement spacecraft, VSS Unity, was unveiled at the Mojave Spaceport on Feb. 19. The craft – which will take tourists up 62 miles for a few minutes of weightlessness in space – is undergoing a battery of electrical and mechanical tests before experimental flights begin at an undetermined time.
Virgin Galactic traveled a long and difficult road to reach this moment.
After 10 years of dogged work, more than $500 million spent and four lives lost (three employees of Mojave's Scaled Composites, a business partner, were killed in a 2007 rocket explosion), Virgin Galactic's entire space tourism business hung in the balance.
However, billionaire Richard Branson, founder of Virgin Galactic and its London parent Virgin Group, said the company only took a momentary pause.
"When we had the space accident, that gave us 24 hours of soul searching," said Branson at a panel discussion in downtown Los Angeles on Feb. 18. "It was only after meeting all our engineers, meeting the families, talking to our astronauts in waiting, seeing that everybody wanted us to continue, that we decided to push forward."
Getting back into the air and creating a profit-making business won't be easy. For starters, the company has already burned through more than $500 million, including a $280 million investment in 2009 by Aabar Investments of United Arab Emirates, at which point the Abu Dhabi firm acquired a 32 percent stake in the business. Virgin Group has been the sole funder of Virgin Galactic's operations since November 2014, according to a report by the Financial Times. Virgin Galactic, which has 500 employees, has also operated a satellite launch business since 2012.
A long record of flawless flights into space is critical, however, if Virgin Galactic is going to start offering seats to the general public.
"The most important thing for us to do will be to execute on our plans and to fly with a great safety record," said William Pomerantz, vice president of special projects at Virgin Galactic. "Beyond that, what is most important is educating our customers so that they can be fully informed about their flight. No form of transportation is ever completely free of risk, and spaceflight won't become the first to be so."
The Federal Aviation Administration agrees.
"These companies are going to have to inform their customers of all the risks. That they could be injured or even die," said George Nield, FAA associate administrator for commercial space transportation.
Congress has also mandated that space tourists sign a waiver before takeoff.
Even when commercial flights begin, it could take many years for the business to make a profit.
At the current sticker price of $250,000 a seat, a fully booked Virgin Galactic flight would carry six passengers and generate $1.5 million in revenue. A spokeswoman declined to disclose the projected launch cost of VSS Unity, so the company's margin is not known. However, if the launches had a 50 percent profit margin, thus generating $750,000 a liftoff, it would take Virgin Galactic some 667 flights to recoup the $500 million it has spent to date. Assuming one flight a week, it would take almost 13 years to hit the payback; averaging two flights a week, it would take almost 6½ years, but that assumes all goes flawlessly and all flights are full. In addition, the company will likely spend tens of millions more before flights even begin, further delaying the payback.
"I don't think you should expect to see a five- or 10-year return on investment on this," said Michael Swartwout, an aerospace professor at Saint Louis University in St. Louis.
Yet many express optimism that the company will succeed.
"Richard Branson is an incredible marketer, but he is also a businessman who has to live and die by the profit line as well," said Andrew Nelson, former president of Xcor Aerospace, a Midland, Texas, competitor to Virgin Galactic. "If Virgin can get the costs down, then it's going to be a great business model. You don't spend $500 million for grins and giggles."
Risky business
Virgin Galactic was founded in the heady days after Scaled Composites launched SpaceShipOne in October 2004.
The SpaceShipOne program was financed by $28 million from Microsoft Corp. co-founder and billionaire Paul Allen and won a $10 million cash XPrize award for launching the first commercial astronaut into space twice in two weeks.
Branson eagerly licensed SpaceShipOne's technology in a deal worth up to $25 million, according to Allen's book "Idea Man." Virgin Galactic has been working over the past decade to turn SpaceShipOne's design into SpaceShipTwo. (VSS Unity is the name of the individual aircraft; SpaceShipTwo is the name of what amounts to the model line.)
The company promises its SpaceShipTwo craft, which will carry two pilots in addition to six passengers, will eventually give tourists a thrilling 30-minute ride to space, several minutes of weightlessness, a stunning view from 62 miles above the Earth and a glide back down to land.
SpaceShipTwo works much like its predecessor. It is hauled up to 50,000 feet under the wing of a large mother ship, a jet airplane named White Knight Two, where it will be dropped and then launched into space. When finished with its flight, SpaceShipTwo will glide back to Earth and land like an airplane.
In reality, sending tourists into space on a regular basis is a much more complicated venture, said space industry experts. The smaller SpaceShipOne made only three flights into space over four and a half months, while Virgin Galactic aims to send tourists up weekly and eventually daily.
"SpaceShipOne made successful flights after months of preparation," said Saint Louis University's Swartwout. "But to then convert that into something that would carry the public in a safe and consistent manner, there is a lot to demonstrate."
SpaceShipTwo will have to prove it can consistently perform complicated and dangerous flights, he said.
Case in point: the October 2014 crash of Virgin Galactic's SpaceShipTwo, which was caused when one of the pilots prematurely deployed tail surfaces.
"The danger in all of this is that rockets are fragile by nature. They have to reach these enormous velocities, but they have to be light enough to reach these altitudes," said Randa Milliron, chief executive of InterOrbital Systems Corp. of Mojave, a rocket systems manufacturer. "Sooner or later there is going to be an accident. Nothing is perfect. Nothing works the same all the time."
Race to space
The space tourism industry is projected to grow to $1 billion by 2022, according to a 2012 study sponsored by the FAA. Virgin Galactic would need a big cut of any future market if it's going to recoup its development costs and eventually turn a profit.
Despite the risks and price tag, there seems to be a small yet growing market for space tourism.
Virgin Galactic has signed up more than 700 astronaut wannabees for flights on SpaceShipTwo.
"Our own group of roughly 700 future astronauts is already larger than the total number of humans who have ever flown to space," said Virgin Galactic's Pomerantz, adding that there are other indications of a potential market. "NASA announced (this month) over 18,000 people had applied to become astronauts, by a factor of three the largest ever astronaut application pool."

Prospective space voyagers tend to be wealthy thrill seekers or those with childhood dreams of space travel, say space industry experts. Meanwhile, some tickets are bought by corporations as employee rewards or marketing gimmicks.
Whether Virgin Galactic will be able to turn enthusiasm into profits is still unknown. For context, Swartwout of Saint Louis University said many airline pioneers who brought important innovations to market never saw the financial fruits of their labor.
"The initial group spends a lot of time, sweat and money figuring out to make things viable. But, by then, they've spent themselves outside of a business," he said. "The next group may be able to take the lessons from the first group to make this into a profitable business."
For reprint and licensing requests for this article, CLICK HERE.