Owner Refuses to Be Railroaded Into Yard Sale
DEVELOPMENT: Piggyback site valued at over $650 million.
Originally published February 22, 2016 at 9:22 a.m., updated February 22, 2016 at 9:18 a.m.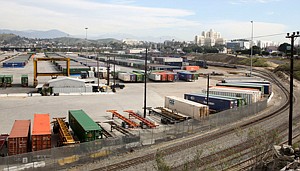 For years, developers looked at a 125-acre rail yard in Lincoln Heights and saw possibility.
Now, the vast property known as Piggyback Yard is a key part of an ambitious billion-dollar plan to revitalize the Los Angeles River north of downtown.
But for interested parties who study the spot – estimated to be the largest property owned by a single entity in Los Angeles – there is one looming issue: The rail yard is not for sale.
"Union Pacific has been clear that we have no plans to relocate or sell the property," said Francisco Castillo, a spokesman for Union Pacific Railroad of Omaha, Neb., which owns the land. In fact, the rail yard operates at near capacity as one of the company's principal hubs for domestic cargo shipments.
Still, the site has many attributes that developers crave. For starters, it sits less than a mile from flourishing entertainment scenes such as the Arts District and the rest of downtown Los Angeles, though it's far enough away to feel like a secluded oasis along the river. It's also well-served by public transportation, including multiple subway and train lines at nearby Union Station. And its colossal size easily lends itself to big, bold ideas.
"It's a unique site," said Shelly Backlar, vice president of programs at Friends of the Los Angeles River, a nonprofit that advocates for restoration of the river. "Anyone who is planning a big revitalization effort, whether it's housing, Olympics or for the river, has to consider that an opportunity site because of its proximity to downtown L.A. and because of the site's scale."
As such, the property, which is estimated to be worth north of $650 million, has consistently piqued interest.
The Los Angeles Football Club recently eyed the land as a potential home for a Major League Soccer stadium, while the Los Angeles 2024 Olympic Bid Committee also considered the site as a possible home for the Olympic Village.
"It was an attractive possibility," said Jeff Millman, a spokesman for the LA 2024 committee, which originally included the property in its Olympic bid package.
That $1 billion proposal, as well as a separate plan for a soccer stadium, were both scrapped.
In situations similar to this, governments can take land by eminent domain. However, the city says it doesn't want to try eminent domain. That means a buyer might have to offer a can't-turn-it-down price – but that would be steep.
Prev Next
For reprint and licensing requests for this article, CLICK HERE.