Beauty Schools Make Up Numbers as Rival Shuts
EDUCATION: Marinello's aid problems leave enrollees with debt load, no diploma.
Originally published February 22, 2016 at 9:21 a.m., updated February 22, 2016 at 9:21 a.m.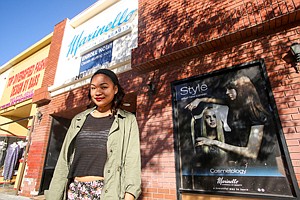 Local beauty schools are getting a wave of new students now that long-established Marinello Schools of Beauty has closed all 16 of its campuses in the L.A. area.
The Whittier-headquartered business announced it was shutting down after losing its federal funding, and that has its students grabbing their blow driers and makeup brushes and scrambling to enroll at rival schools.
"We have tons of Marinello students calling us every day," said Tally Vincent, co-owner of downtown L.A.'s Michael Vincent Academy, which has recently enrolled 20 students from Marinello.
Michael Vincent is offering a 10 percent discount to anyone who transfers from the ill-fated Marinello.
Marinello had been in operation for more than a century and offered classes in hair design, cosmetology, manicuring and massage therapy. But the business announced earlier this month it would close all 56 of its campuses, including schools in California, Arizona, Utah, Nevada, Kansas and Oregon.

Shutting down its 16 campuses in the L.A. area displaced 1,532 students and 800 employees.
The decision to close followed U.S. Department of Education's accusations that the business requested federal aid for students based on invalid high school diplomas and underawarded federal aid to students, among other issues.
Marinello received more than $87 million in federal loans for the 2014-15 school year, according to the department's website. Now all the funding has stopped and the business has closed.
Santa Monica's Toni and Guy Hairdressing Academy, which offers a cosmetology program, is among the local schools ready and willing to pick up many of those impacted by the Marinello closures.
"We hope to have more students," said director Ashley Berryhill. "We hope they end up here, so we can help them complete their education."
School scramble
Sky Zehnder is one of the displaced students, who is now on the hunt to transfer to a new beauty program. She moved from Seattle to Inglewood only a few weeks ago to enroll in a Marinello cosmetology program.
Zehnder, 18, felt ecstatic when she learned that she could receive a high school equivalency diploma and finally become a makeup artist. But two weeks ago, her parents called her from Seattle and said Marinello was on the news because the school closed all of its California campuses, including the one in Inglewood.
"I was so happy. I was following my dream," she said. "But now it's just broken promises."
Unlike many students, Zehnder didn't apply for financial aid at the school. She paid $175 for registration and a GED test, which she took at the Inglewood campus.
For reprint and licensing requests for this article, CLICK HERE.
Prev Next