Nevada Treasurer Inquiring About Faraday's Finances
Tuesday, February 16, 2016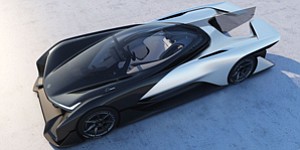 Nevada State Treasurer Dan Swartz said he is growing concerned whether Faraday Future or its billionaire backer, Jia Yueting, will put up the money needed for the company's $1 billion electric car factory in North Las Vegas.
Swartz said the state is seeking about $70 million from Faraday or Jia, founder of Chinese Internet company Leshi, to insure Nevada's infrastructure investment in Faraday Future's proposed electric car factory.
Faraday, based in Gardena, did not return telephone inquiries.
After returning from a trip to China last week, Swartz said several individuals there told him that Jia and Leshi did not have the money to fund the project, although he did not talk with Jia directly.
"I spoke with several members of the Chinese corporate and financial communities who are familiar with and know Leshi and Mr. Jia," said Swartz. "What they all agreed on is he doesn't have the money."
Schwartz said that he wants the project to succeed and has arranged a meeting with Faraday Future executives this week to discuss the issue.
Faraday plans to build a Telsa-like electric car in a new plant in North Las Vegas. Nevada is offering $217 million worth of incentives including the infrastructure – roads, a rail line, water pipes and the like – for the new industrial site. Faraday is to pay for the $1 billion plant. The state wants the $70 million from Faraday as security in case something goes wrong.
Faraday Future is a subsidiary of Beijing's Leshi Internet Information & Technology Corp., founded by Jia. Faraday is led by Ding Lei, head of Leshi Super Electric Car Co., several insiders told the Business Journal last month. The company has publicly committed to selling its first electric car next year, though it has yet to show a functioning prototype or complete its factory.
A large portion of Jia's wealth reportedly is tied up in shares of Leshi. However, trading of Leshi's stock stopped on Dec. 4 for a corporate restructuring, which was to transfer a controlling stake of Leshi Movie, a sister movie-streaming company, to Leshi. Trading was supposed to resume no later than Jan. 5, but has remained halted.
When Leshi's stock stopped trading, Schwartz said his interest was piqued.
His concern grew further after he made a personal trip to China where he says he met with undisclosed people who he said were familiar with the finances of Jia and Leshi.
For reprint and licensing requests for this article, CLICK HERE.
Prev Next