SPECIAL REPORT: Korean Growth
Monday, February 15, 2016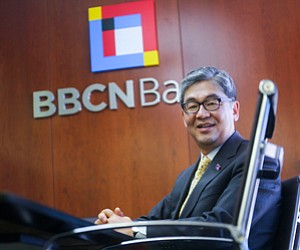 Kevin Kim started his career as an accountant for "big eight" accounting firms, but he wanted something less predictable. He now heads the country's largest Korean-American bank, which is about to get even bigger when its merger with Koreatown's Wilshire Bank closes.
Kevin S. Kim, 58
Title: Chairman, Chief Executive of BBCN Bancorp; Chief Executive of BBCN Bank
Bank: BBCN
Rank, Local Deposit Market Share*: 15, .95 percent
Residence: La Cañada
Family: Wife, Okee, and children, Deborah and Philip.
Activities: Senior elder in church congregation, golfing.
Years in L.A. area: 34
*As of Oct. 30, 2015
Born, raised and educated in Seoul, South Korea, Kim served his mandatory time in the army before coming to the United States in 1982 to get his M.B.A. from UCLA.
After graduation, he spent about a decade at Arthur Andersen and KPMG as an accountant, working in the audit area and also international tax for foreign companies doing business stateside.
Kim took evening classes at downtown L.A.'s Loyola Law School while working full time at KPMG, feeling the legal world might prove less predictable than accounting.
He left KPMG and started his own Koreatown law practice in 1995, focusing mostly on corporate transactions.
Koreatown's Center Bank added him to its board in 2008 as banks were just grasping the depth of the financial crisis. He became chairman of the audit committee the following year and was Center's lead negotiator during its merger with fellow Koreatown lender Nara Bank.
After the two merged in 2011, Kim became chairman of the combined institution: BBCN Bank. The following year he also became chairman of the holding company, and in 2013, its chief executive.
Kim left his law practice at that time and also became chief executive of the bank the following year.
Question: How have the needs of your clients changed since BBCN's predecessor banks were founded in the late 1980s?
Answer: The profile of our customer base has dramatically changed over the past three decades. The predecessor banks were founded in the mid-'80s, and at that time our main client base included mom-and-pop corner store owners, wage earners and very small business people. These days, we have large-sized corporations and institutions and our individual customer base also has enhanced their financial or economic status in this society, so we include a lot of upper-middle-class people or even higher-class people.
What's contributed to the change in size of your clients?
The primary factor is the economic success of Korean-American immigration in the United States. The second factor, which is as big as the first one, is the emergence of Korea as a global economy or economic powerhouse. And that has contributed a lot to the economic success of the Korean population living outside of Korea also. The success of the Korean economy has boosted the status of Koreans living in the states and also provided a lot of opportunities for Koreans in the states to have better chances of success in what they do. When the predecessor banks were founded, the bank was very small. These days, I think our resources have increased large enough to serve so-called middle-market clients.
Are there any new business lines you've established in the last few years to serve the evolving needs of your clients?
Korean-American banks are pretty much commercial real estate and SBA (Small Business Administration) lenders. But having a very high level of concentration in a few areas is not always good. During the past two to three years, we have launched equipment lease financing, foreign-exchange services, our own credit cards issued by BBCN, wealth management services and residential mortgage products.
Are you trying to attract new customers with those products?
I've really tried to make BBCN a more diversified financial institution providing more products and services to our existing customer base. We have existing customers who have bank accounts with us. We give them commercial real estate loans when they purchase a building or shopping center, but when they needed other services like cash management or leasing needs, they had to go to non-Korean banks, and we thought that instead of penetrating into a new customer base we have our existing customer base who would need additional products.
So acquiring mainstream clients is not part of your strategy?
We have found we should really focus on the areas where we have competitive advantages and those niche markets do not include the U.S. mainstream market. They have a lot bigger institutions serving the mainstream population.
What about other ethnic groups?
We found that other minority ethnic groups outside of Korean-Americans have exactly the same banking needs. They do not have their own ethnic banking institution to serve the community, and we know what kinds of challenges they have as immigrants to the United States because we have gone through the same things. And in a lot of cases, they find they're a lot more comfortable dealing with us than dealing with the Caucasian bankers.
What do you think is unique about your background compared to other bank chiefs? And how does that influence your management style?
I'm not a career banker and not a traditional bank executive. Bank executives are very good, very intelligent people. But if you stay with the financial institution for a long time, I think the way you can look at things will be in some cases very focused, but in some cases too inflexible or too conservative. I think the CEO should not be a superstar himself. I think the CEO is someone who really is able to make his executives shine. I don't claim to be an expert on the day-to-day banking operations, obviously, and I'm not. But I think I have enough skills to put the right people to the right position.
For reprint and licensing requests for this article, CLICK HERE.