Big Plans
How Gensler's Cohen got world's largest projects
Monday, February 15, 2016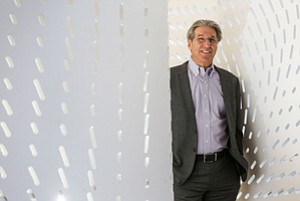 Gensler's Andy Cohen has no time to rest.
Though the downtown L.A. architecture firm where he serves as co-chief executive tallied more than $1 billion in billings last year, making it one of the largest in the country as it marked 50 years in business, there's more to be done as downtown's transformation continues and developers around the world task Gensler with building major civic edifices.
"Personally, it's been an incredible run," said the 60-year-old Cohen in a recent interview at Gensler's office in the Financial District. "I'm not done yet."
Local L.A. landmarks designed by the firm – including L.A. Live and now the massive, mixed-use Metropolis complex – have morphed the South Park area into an entertainment and residential district.
Nearly 6,500 miles away, Gensler added the completed Shanghai Tower, the tallest skyscraper in Asia, to its global portfolio.
"We're designing a total place, an experience for people," he said of Gensler's design philosophy. "We do sometimes get an opportunity like the L.A. Live tower, where the tower becomes a marker, an icon for a certain area of the city, and that's a really great opportunity. But we're all about people and creating great people places."
Even so, the firm does seem to gravitate toward the grandiose.
The 2,300-foot tall Suzhou Tower in Jiangsu, China, also designed by Gensler, will stand 200 feet higher than the Shanghai Tower when it's finished in 2020.
But Gensler isn't done shaping Los Angeles.
Consider Chinese developer Greenland USA's $1 billion Metropolis complex, which is scheduled to be completed in 2018 and feature 1,500 condos ranging from $555,000 to $2 million as well as a 350-room hotel and more than 70,000 square feet of retail. Then there's the $500 million expansion to the downtown JW Marriott hotel that Gensler is working on with Anschutz Entertainment Group, and a hotel and residence being developed by another Chinese firm, Shenzhen Hazens, at Figueroa and 11th streets, among others.
Cohen, who was born in the Bronx, remembers building with Lincoln Logs and penciling sketches at an early age. But he credits Cohen's Dairy, a family-run store founded by his grandfather, with giving him an understanding of people.
Cohen was poised to inherit the business when his father, Jerry, gave him a choice: take over the store or pursue his passion.
A year after his father passed away from lung cancer, Cohen, who graduated from New York's Pratt Institute as an architect in 1978, left his stomping grounds in New York and took a job in California with a startup called Gensler in 1981.
Prev Next
For reprint and licensing requests for this article, CLICK HERE.