Solid Image
ENTERTAINMENT: Burnish Creative's co-founders credit firm's physical office, location with scoring TV editing work.
Monday, February 8, 2016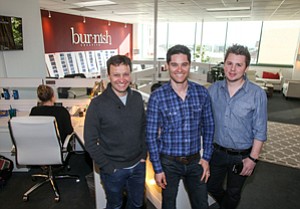 More than two years after launching their postproduction company, bosses of Burnish Creative have still been too busy to announce they have opened for business.
But advertising isn't needed when word of mouth brings so much work from such TV shows as "Dancing With the Stars," "America's Got Talent" and "Lip Sync Battle," all of which use Burnish's editing services.
Not only has business grown – the firm said revenues nearly tripled from 2014 to 2015 – but so has its office space, with two expansions in the past 18 months and a third one is likely as more room is needed to work on all the projects.
Headquartered on the Miracle Mile – in close reach of nearby film and television production companies and facilities – Burnish nearly didn't have offices at all. Co-founders Oren Castro, Ben Delamont and Ed Servaites initially planned to launch a virtual company, where they could each edit projects from their respective homes, communicating with each other – and clients – by cellphone and email.
"We took the working-from-our-bedroom model as far as anyone could take it," Servaites said. "If we would have continued doing that, we never would have been able to get bigger, ever."
Delamont explained, "We couldn't be taken seriously until we had functional space."
Back story
The Burnish co-founders first began working together in 2009 when they were each hired as freelancers to edit footage for the ninth season of Fox's "American Idol."
That gig came to be the foundation of a strong friendship that, over time, led to the trio's becoming business partners. Ever since that decision was made, life for Castro, Delamont and Servaites has not slowed down.
Their decision to scrap the virtual company idea came in summer 2014, several months after Burnish was formed. They decided to rent temporary space in Burbank. And that, according to Castro, was only because a client wanted to meet in a physical location.
Finally, by September of that year, the co-founders caved – committing to a yearlong lease for about 2,000 square feet at 5757 Wilshire Blvd.
"The overhead scared us," Castro said. "Plus, we thought it was a very futuristic idea to do everything virtually."
But the decision to go for physical premises ultimately proved to be vital and the company soon became profitable – despite the $2.65 monthly rent that comes with each square foot.
As editing jobs piled up, the first office expansion was in January of last year when they moved up a couple of floors to take on about 4,500 square feet – more than doubling the size of their first space. But even that proved insufficient.
By May, they decided to knock down a wall to make room for more editing bays, which brought the total space up to about 8,000 square feet.
What's more, Delamont said it's quite possible Burnish will need even more space by the time its current lease expires in a few months.
The previous expansions were necessary, Castro said, because clients and other production firms that work with him and his partners on projects also need space to edit footage.
On any given day, as many as 50 people could be editing various shows at the Burnish office.
Though that number fluctuates, as the company takes on freelance workers to help cope with demand, there's one thing that doesn't: Wine is served from a full rack near the office entrance every day at 5 p.m.
"It's quite the expense," Castro said, "but it's well worth it."
For reprint and licensing requests for this article, CLICK HERE.