Riding Rail
Businesses make tracks to incoming Expo Line stops
Monday, February 8, 2016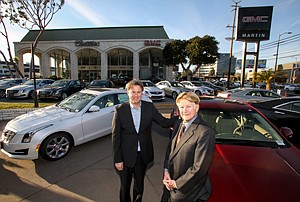 The Martin Automotive Group has long offered prospective car buyers rows of Cadillacs and GMCs on its five-acre lot on Olympic Boulevard in West Los Angeles.
But after 69 years of selling cars, the dealership's operators have decided to gamble on a train.
And they're not alone.
As the Los Angeles County Metropolitan Transportation Authority's $2.5 billion light-rail Expo Line nears completion after a decade of planning and another of construction, a slew of transit-oriented projects is underway, reshaping a group of West L.A. neighborhoods along a roughly seven-mile stretch from Culver City to downtown Santa Monica.
If Dan Martin, chief executive of Martin Automotive, and his father, Dana, chairman and owner of the business, get their way, the dealership will become the Martin Expo Town Center, a pedestrian-oriented mixed-use complex with 516 apartments, nearly 100,000 square feet of retail space, 200,000 square feet of creative office space as well as a small showroom for vehicles. The project is awaiting approval from the Los Angeles City Council.
The development will be situated one block from the Expo Line, which will allow passengers to travel the full 15 miles between downtown and Santa Monica once its second phase, adding seven stops, is opened in May. The first phase, which stretches from downtown to Culver City, opened in 2012.
"We've got about 10,000 workers within a quarter-mile of here and we have no apartments and limited retail options, so there's a lot of excitement," said Dan Martin. "Hopefully, we will set a gold standard for transit-oriented development in Los Angeles."
Philip Simmons, project manager for the Martin Expo Town Center, said without the extension, the Martins probably wouldn't have set their sights quite so high.
"The timing was just right," he said. "If there hadn't been an Expo Line, maybe the Martins would have just upgraded their showroom."
Similar projects are underway.
A little more than a mile away from the dealership, at Pico and Sepulveda boulevards, a development called CasdenWestLA will feature 595 residential units in a 10-story building once it's complete. A five-story structure at Pico and Gateway Boulevard will feature 129 residential units and more than 5,000 square feet of ground-level commercial space.
David Riccitiello, senior deputy for economic development in the office of Los Angeles County Supervisor Mark Ridley-Thomas, said daily ridership on the Expo Line will likely hit 64,000, according to MTA estimates, so land near its transit stops has become desirable.
"There is a lot of interest in securing development opportunities around transit stations," he said. "The more ridership you have on the line, the more traffic you get into your site, so it becomes a positive thing for a developer when they're looking at where they want to put their developments."
Past, future
Growing a metropolis around railroad tracks is not a new idea. 
At the turn of the 20th century, Pacific Electric Railway's Santa Monica via Sawtelle rail line carved out what today is one of the most traversed streets in the city: Santa Monica Boulevard.
The Venice Short Line eventually became a 13-mile thoroughfare known as Venice Boulevard. And Colorado Avenue, the route now plied by the Expo Line train as it travels toward the ocean, was once known as Railroad Avenue.
Today, more than a century later, curved parcels that interrupt the city's grid system attest to a time when properties followed nearby tracks.
"It's written into the DNA of Santa Monica," said Frank Gruber, a former Santa Monica planning commissioner, referring to trains in the beachside city.
Farther east in Culver City, with its Expo Line station, 12 bus lines, existing infrastructure and access to the I-10 freeway, a host of developments are springing up.
One of them is Ivy Station, a 500,000-square-foot mixed-use complex, being developed by Brentwood's Lowe Enterprises Real Estate Group, which will likely stand adjacent to the Expo Line's Culver City stop.
"Metro's Expo light-rail connection from downtown Los Angeles to the Westside was a key investment component for the development," said Tom Wulf, vice president of Lowe Enterprises, in an email.
Then there's the Platform, an upscale mall being developed by Culver City's Runyon Group, which promises lesees a prime location across from the Culver City station by spring. A 115-unit mixed-use complex, Access Culver City, will hope to attract commuters with its proximity to the station. And the Cumulus Transit Oriented/Mixed-Use Project, developed by San Francisco's Carmel Partners, will spread out over 11 acres just north of the La Cienega-Jefferson stop farther east.
In South Los Angeles, a 300,000-square-foot mixed-use complex developed by the Charles Co. will include a Target, Ross and Marshall's, among other retailers.
The Expo Line is not the only new route that has fostered population clusters around its tracks.
The Metro Gold Line Foothill Extension, which will extend the existing route 11 miles east from Pasadena upon its completion in March, is seeing a host of similar transit-oriented developments spring up along its path.
The Monrovia Station Square will feature 261 apartments on a roughly 3-acre property directly adjacent to the line – part of the Station Square Public Improvement Plan, which will be the largest public works project in Monrovia's history.
Neighborhood concerns
As the city wrestles with the consequences of large-scale development, however, not all projects have made it through the byzantine planning process.
Among other factors, securing proper site control, obtaining permits and entitlements, changing existing zones for commercial use and acquiring financing have beleaguered developers.
Concerns over affordability and increased traffic have also forced some to scrap plans.
For example, the former Paper Mate site at Olympic and 26th Street in Santa Monica had been set to become the Bergamot Transit Village, a roughly 700,000-square-foot mixed-use project that would have incorporated retail, residential and office space. After a seven-year process, the Santa Monica City Council retracted the project's approval in May 2014 after neighbors voiced concerns over traffic.
Hines, a real estate firm in Houston, sold the building in October of that same year to downtown L.A.'s Lincoln Property Co. and Clarion Partners for about $113 million. The new co-owners have a simpler plan to turn the former factory into office space. 
Meanwhile, existing locations nearby, such as outdoor shopping mall Santa Monica Place, are preparing for an expected influx of foot traffic resulting from the Expo Line.
But if those shoppers are too tired to head back downtown on the subway, they could always choose to stay at either of the two hotels on the way near Fifth Street and Colorado.
Julia Ladd, assistant vice president of property management at Santa Monica Place, estimated thousands more visitors will frequent the mall every day.
"We've been building excitement for this right at our doorstep for the past three years," she said.
For reprint and licensing requests for this article, CLICK HERE.