Label Intends to Slip More Women Into Denim
FASHION: Good American sews up backing for jeans from Khloe Kardashian.
Friday, December 9, 2016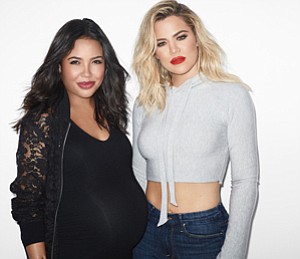 Los Angeles is a haven for denim labels, and one newly launched brand is already breaking the mold.
Good American, co-founded by fashion and marketing executive Emma Grede and reality TV star Khloe Kardashian, started its denim label two months ago – hitting $1 million in sales on its first day, according to the company – and is already gearing up for more denim styles and an expanded product offering in the new year.
Grede, chief executive of Good American, said the idea was to launch a line embracing the body type of all women, regardless of size and shape.
"Good American offers a premium denim line in a full size range without the plus-size label," she said in an email. "Everything is made in L.A. as well, which we're particularly proud of."
The line launched with skinny, boyfriend, and high-waisted skinny denim styles in sizes 00 to 24. Prices range from $149 to $215.
Many premium denim labels offer styles for curvy women, but Grede said its label stands out because of the quality of its materials and shape. The company's jeans also feature a four-piece waistband offering additional stretch that contours the body.
Kardashian said when she heard about Grede's idea for the line, after an introduction through her mom, Kris Jenner, she knew it was a project she needed to join.
"I used to have such a hard time finding a pair of jeans that fit my body," Kardashian said in an email. "And even after buying designer denim I would have to pay for additional tailoring. I thought, if I'm having these issues, other women must be, too."
Giving Time
Santa Monica footwear and accessories label Toms continues to push forward with its donation-based business model.
The company began selling bands for Apple Watches and said it would donate a year of solar-powered electric lighting to a person in need with each purchase.
Blake Mycoskie, founder of Toms, said the company loves the idea of products used on a daily basis that allow customers to give.
"With our new Toms for Apple Watch band, we will not only help provide light, but we will be positively impacting education, economic opportunity, health, and safety for so many people who desperately need it," Mycoskie said in a statement.
The straps retail for $49 to $75.
The brand partnered with nonprofit Solar Sister in Providence, R.I., and SolarAid in London, which both provide solar-powered lighting to impoverished families in countries such as Uganda and Tanzania.
Prev Next
For reprint and licensing requests for this article, CLICK HERE.