Hanjin Shipping Creditors Reject Finance Plan
Tuesday, August 30, 2016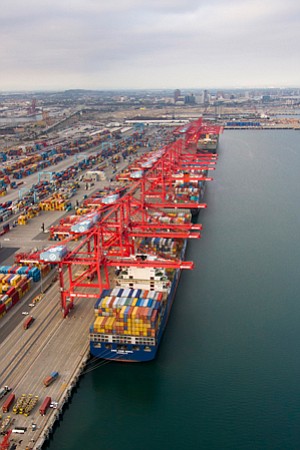 Hanjin Shipping Co. Ltd., one of the largest cargo carriers at the Port of Long Beach, may be headed for bankruptcy after its creditors reportedly rejected a restructuring plan Tuesday.
The decision could mean the company may be selling off its terminal operations at the Port of Long Beach. Meanwhile, officials with Korean Air, which is owned by the same parent company, said Hanjin's problems shouldn't affect the airline nor its construction on the Wilshire Grand Center in downtown Los Angeles.
South Korean Yonhap News Agency reported Tuesday that creditors voted not to extend additional support to the carrier, which its largest creditor, Korea Development Bank, had required to raise $1.1 billion. With a Sept. 4 deadline fast approaching, the company may have no choice but to enter court receivership.
"We have reached the conclusion that we cannot accept (Hanjin's) request for fresh funds, though both sides made efforts to narrow differences," Lee Dong-geol, head of the bank, said in a news conference, according to Yonhap.
Following news reports about the creditors' decision, Hanjin Shipping's value on the Korea Exchange dropped by more than 24 percent until, according to the Journal of Commerce, Exchange officials suspended trading and asked for clarification on whether the company will enter receivership. That publication reported that parent company Hanjin Group is expected to confirm by 6 p.m. Wednesday Seoul time (2 a.m. PST) whether it expects to file for court receivership.
Reuters reported that Korea Development Bank Chief Executive Lee Dong-geol said in a briefing that creditors don't plan to merge Hanjin with South Korea's other major shipping company, Hyundai Merchant Marine Co. Ltd., which is also facing financial troubles.
Hanjin had more positive news earlier this week after it reached a deal to lower charter rates for its ship leases with Seaspan as part of its restructuring plan.
Hanjin Group had already pledged to give its subsidiary a $400 million infusion to help it meet its liquidity goal, company officials said. Hanjin Shipping has also been divesting itself of non-essential assets to raise another $400 million.
One of those assets that Hanjin has said it is may sell is Total Terminals International, the operator of the Port of Long Beach's Pier T. Under that deal, Hanjin Shipping would sell the terminal operations to Hanjin Transportation, another business under the same parent company.
Pier T is the largest terminal by acreage at the port, handling about 2 million TEUs (20-foot equivalent cargo containers) per year, about one-third of the port's total cargo. Hanjin is the primary carrier at Pier T, but several other shipping companies dock there as well.
If Pier T is sold, or Hanjin Shipping enters court receivership, it isn't clear whether the company would continue calling there at current levels.
Port of Long Beach spokesman Michael Gold said last week that should Hanjin reduce its presence at Pier T, the port should be able to replace it with a new carrier because Pier T is one of the port's most modern terminals.
As for the Wilshire Grand Center, which at 72 stories will be the tallest skyscraper in downtown Los Angeles when completed next year, spokeswoman Lisa Gritzner said not only is Korean Air a separate company from Hanjin Shipping, an entirely different business entity was created to build the Wilshire Grand. The project won't be affected by Hanjin, said Gritzner, president of Cerrell Associates.
For reprint and licensing requests for this article, CLICK HERE.