Macy's Looks to Join Downtown's Scene at Hip
RETAIL: Chain repositions store for young, educated residents; tourist shoppers.
Friday, August 26, 2016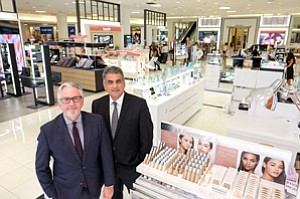 Set back from the bustling traffic of downtown's Financial District behind a green knoll of AstroTurf, the newly renovated Macy's is a drastic departure from the dark, gloomy department store that towered over Seventh Street for decades. Fronted by glass doors that open into a brightly lit cosmetics department, punctuated with crisp white surfaces and top 40 hits bumping through its speakers, the new Macy's includes an array of youth-oriented brands; a revived furniture department; and a visitor's center aimed at tourist shoppers, the only one at a Macy's in Southern California.
It has become a laboratory of sorts for an ailing chain that is seeking to refine and redefine its offerings in the face of a retail landscape shifting away from department stores. The company posted net sales of $27.1 billion last year, a roughly 4 percent decrease from the prior year, and announced last month that it planned to close 100 of its 728 stores. Last year, the Irvine Spectrum location was closed, and Macy's won't say which stores are slotted for the chopping block this time around.
The 250,000-square-foot downtown space anchors the Bloc, a still-in-development $180 million mixed-use project slated to host a slew of shops and restaurants and ultimately become a shopping mecca.
"We want the mall to be a destination. We want our store to be part of the destination and experience," said Henry Aguirre, vice president and store manager of the 20-year-old downtown Macy's.
As the finishing touches were being put on the downtown store, the chain earlier this month released its outline for a recovery plan that focuses resources on high-performing outposts, brings in new vendors, and curates more in-store events.
For its downtown L.A. flagship, the emphasis will be on creating an immersive experience, from the product displays to the music choices, said Michael Ellmann, Macy's district vice president for Los Angeles.
"You don't get the same experience sitting at home on your iPad and (shopping)," he said.
Fall of mall
Macy's is facing multiple headwinds, from the expanding presence of online retailers to a notable shift in consumer spending away from apparel and toward categories such as dining and entertainment, said Jason Goldberg, Chicago-based senior vice president of commerce at marketing agency Razorfish and author of the blog Retail Geek.
Amazon.com has become a leading apparel retailer in the United States, said Goldberg, and the brick-and-mortar clothing companies that have managed to flourish are those that are value-oriented, such as Zara and H&M.
For reprint and licensing requests for this article, CLICK HERE.
Prev Next