Santa Clarita Winery Estate Ripe for Purchase
Wednesday, August 24, 2016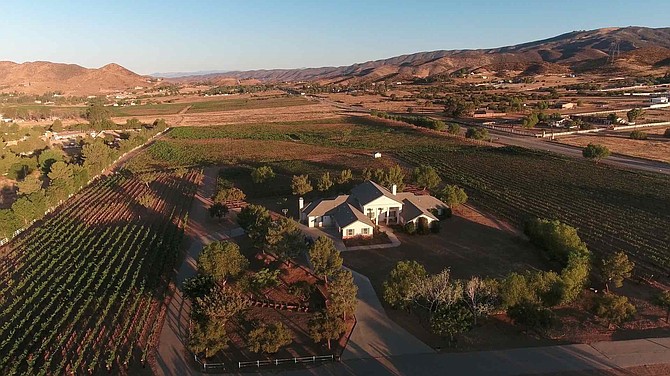 When Barry Goldfarb needs a change of scenery, he can drive half an hour from his Bel Air home to Agua Dulce in Santa Clarita. The 90-acre site is more than a countryside estate; it's L.A.'s largest vineyard and winery. The site just hit the market for $12.8 million, listed by Partners Trust Commercial brokers Dario Svidler and Robert Morton.
"This is a business that's profitable," said Svidler. "Someone can take it to the next level, or keep it as a family basis…the sky's the limit."
Goldfarb, a wine industry veteran for 25 years, purchased the site six years ago when it was in poor shape and on the point of foreclosure. He spent close to seven figures on upgrades in addition to purchasing wine-making equipment, barrels, and a bottling plant. Now, at 70 years old, he wants to "lighten up a little" while continuing to operate his two other wineries, one in Paso Robles and the other in Santa Barbara.
Agua Dulce boasts a vineyard with six grape varietals, a ranch for livestock, 4,400-square-foot home with 1,100-square-foot guest house, 10,500-square-foot wine barrel warehouse, and a 9,300-square-foot winery, tasting room, and retail space. The buyer would also end up with more than $1.15 million in "inventory" and the chance to attract television and film shoots.
Svidler and Morton are casting a wide net for buyers, looking within the wine business, entertainment industry, and Chinese investor community Partners Trust.
"There's such a demand from Chinese investors to buy properties like this that are something they can grow and be a calling card for them in Los Angeles," said Svidler.
Whoever ends up at Agua Dulce, Goldfarb hopes it will be someone who values the family business he built with his son and daughter.

"It could be the ego buyer who wants a winery, a strategy buyer, or someone who wants to learn about the wine business and get into it," Goldfarb said. "The beauty of this property is its proximity to Los Angeles."
Real estate reporter Daina Beth Solomon can be reached at dsolomon@labusinessjournal.com. Follow @dainabethcita on Twitter for the latest in L.A. real estate news.
For reprint and licensing requests for this article, CLICK HERE.