The Queen Mary Gets Royal Renovation
Thursday, August 11, 2016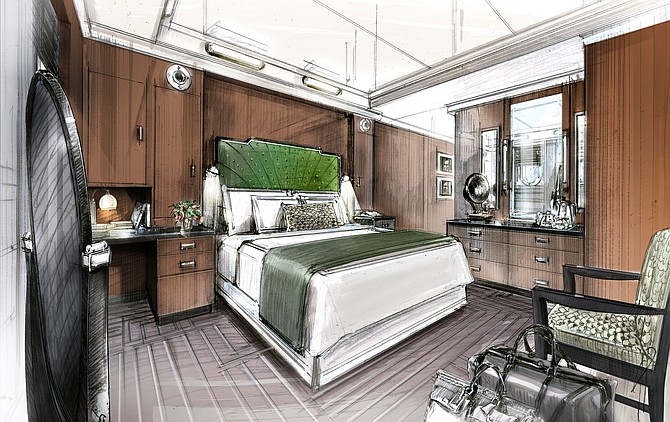 Millennials, ahoy! Long Beach mainstay the Queen Mary is poised for a $15 million overhaul designed to attract a young, hip crowd, a Los Angeles-based developer announced on Wednesday.
Urban Commons, a real estate and development firm based in Anaheim, outlined redesign plans for the more than 1,000-foot-long ship that include renovating hotel rooms and corridors, creating "social hubs" at each end of the ship and implementing some major technological advancements.
The redesign includes using "contemporary influences" to enhance the ship's design and capture some good old-fashioned "nostalgic excitement of travel," according to a statement from Urban Commons.
The more than 350 rooms and suites will receive new furniture, lighting, and specialty-made carpet designed to look like original patterns from the ship's inaugural era, and hallways will receive new lighting and "refurbished millwork consistent with the original design of the ship."
Taylor Woods is the principal at Urban Commons, and said the overhaul will also include improved internet service as well as docking stations and high definition TV in each guest room. Although the existing hotel already has a relatively full guest list, with a yearly average of 70 percent capacity, Woods wants the Art Deco-designed ship to be a destination for Southern Californians as well.

"In addition to traditional travelers that are coming from around the world and around the country…we also want to provide additional outlets for entertainment, for music, for enjoyment, for the locals to come on a repeat basis," said Woods.
Urban Commons has been designing the space with Gensler, the architecture firm behind downtown L.A.'s JW Marriott and the Ritz Carlton Hotel & Residences.
The last major renovation at the Queen Mary was in 2007 and focused less on complete redesign and more on replacing old mattresses, mirrors and sheets, said a representative for Urban Commons, who added that this renovation will be the largest investment in the ship since it's been docked.
Urban Commons signed a 66-year master lease of the ship in April, which also encompasses 45 acres of land adjacent to the ship and 20 acres of development rights along the water. The hotel renovations are slated to begin this year, with the ship remaining open throughout renovations and an expected completion date of 2017.
Staff reporter Hayley Fox can be reached at hfox@labusinessjournal.com. Follow @EPfox on Twitter for the latest in L.A. news.
For reprint and licensing requests for this article, CLICK HERE.