Accelator Aims to Boost Medical Startups' Pulse
HEALTH CARE: Venture by Cedars, Techstars to focus on industry innovations.
Monday, April 11, 2016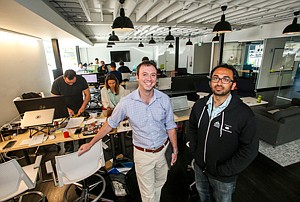 A former furniture showroom might not seem the most obvious location for the largest startup accelerator dedicated to health care in Los Angeles.
But it's from that building, directly across from Cedars-Sinai Medical Center on Beverly Boulevard, that the Techstars Healthcare Accelerator has just launched.
The three-month program offers mentorship from physicians, investors, entrepreneurs, and others, along with $120,000 in funding, to help fledgling companies bring new ideas to market.
In exchange for their resources and capital, Cedars and Techstars, of Boulder, Colo., take a combined 6 percent stake in each company.
On April 4, Cedars announced that 11 companies would be the first participants in the program – and seven of them are Los Angeles based.
"There are so many complexities that keep great ideas from getting to market, and if there are ways to provide mentorship and guidance so that they can, that's the value of the accelerator," said Omkar Kulkarni, director of the program for Cedars.
While the medical center has spearheaded other innovation initiatives in the past, such as Summation Health Ventures, a strategic health care investment fund, Cedars wanted to identify a structural way to bring in the most innovative products that exist, Kulkarni said.
As hospitals adapt to new health models and consumers expect more from their health care, however, the opportunity to guide early stage companies may not be Cedars' only incentive. In fact, the accelerator will also allow the hospital to become an early mover in an industry that has been notoriously slow to adopt technology.
"That's what's kind of cool about this," said Chris Wadden, chairman of Pasadena Angels, a group of accredited investors, "that it's attacking an industry that's ripe for disruption. There's been breakthroughs and improvements, but no one has really Uberized health care yet."
Changing odds
Techstars has inverted the common notion that 90 percent of all startups fail. Of the hundreds of companies it has invested in, nine out of 10 are still active or have been acquired, according to Matt Kozlov, managing director of the program.
"We build a community of incredible mentors who are highly engaged, incredibly passionate, and skillful that will help companies get more done in three months than they might in two years," said Kozlov. "We also help them get commercial traction from our commercial partner and deep expertise."
Techstars has run almost two dozen programs in Seattle, Boston, New York, Chicago, and other cities since 2007. It has invested in more than 760 companies that now boast a combined valuation of more than $5 billion. Of those, 82 have been acquired and 544 are still active. The companies have raised more than $3 million each on average.
Techstars, which launched a media accelerator with the Walt Disney Co., had previously stayed away from health care, where providers are frequently averse to taking chances with patient care. Changing cost structures as a result of the Affordable Care Act, however, have moved hospitals to pay closer attention to the ways that technology can improve the industry − and created room for innovation in the process.
Whereas providers were formerly paid by the number of patient visits and tests in a fee for service model, for example, they are now incentivized to keep patients healthy with a fee-for-value model in which penalties and lower reimbursements kick in if patients are readmitted frequently.
Consumers, accustomed to receiving seamless experiences in sectors such as transportation and delivery, have also led hospitals to embrace technology in areas they previously had not, Kozlov said.
On the other side, having a chance to better understand what hospital administrators, doctors, and nurses need a product to do, has been incentive enough for local companies such as HomeHero Inc. to sign on.
Local interest
Despite already raising $23 million in seed and Series A funding rounds, the Santa Monica-based startup, which connects home care workers with families, is now a part of the inaugural 11-member class, selected from nearly 500 applicants.
Other local participants are Applied VR of Century City; health care data analytics company Deep 6 Analytics of Pasadena; mindfulness-based stress-reduction company Ella of Beverly Hills; medical credential management company Silversheet and patient-monitoring software company Stasis Labs of Culver City; and ZendyHealth, a downtown L.A. medical procedure marketplace.
"We wanted a good partner to use as a case study," said Mike Townsend, HomeHero's chief operating officer, noting that the company would like to eventually sign lucrative in-home care deals with other hospitals around the country. "When we heard about the program we thought it was such a fantastic opportunity to integrate into their systems."
Looking forward
For companies such as Stasis Labs, the stamp of approval from Cedars might also impact the company's trajectory at a pivotal moment: Stasis is hoping to bring its product to market by August, according to Michael Maylahn, a company founder, who added that such monitoring devices can sometimes sell for up to $15,000.
Still, challenges might lie ahead for the accelerator.
For one, said Adam Koopersmith, a partner at the Westwood office of Pritzker Group Venture Capital, the accelerator will have to ensure that companies accomplish something substantial in just three months − which is difficult in an industry where sales cycles are particularly long.
If the Disney-Techstars partnership is a guide, there might also be institutional hurdles to overcome.
Although accelerators often make a persistent, long-term effort to become part of a tech ecosystem, the Burbank media giant ended its partnership with Techstars after two years in 2015 and has since launched its own Disney Accelerator.
Techstars, which did not directly respond to inquiries regarding the reasons why its partnership with Disney was discontinued, said in a statement that it had a great relationship with the company but the firm's contract had reached its conclusion.
"We're glad to see their ongoing commitment to innovation through their own accelerator program, and we continue to fully support our alumni from past programs with them as members of the global Techstars ecosystem," the statement reads.
Regardless, the firm might have to ensure that its startup mind-set does not impede on the long-established ways of Cedars, another L.A. institution.
"Disney is an incredibly creative corporation, but it's still a corporation, and when you put a startup next to an established business, sometimes it just doesn't work," said the Pasadena Angels' Wadden.
Despite any obstacles, though, the excitement over a large health care-focused accelerator in Los Angeles seems widespread. While other hospitals such as UCLA Medical Center and Kaiser Permanente have initiatives to spearhead innovation, there is no other L.A. institution with such a large, health care-focused accelerator.
"Historically, there hasn't been as much of a focus on health care here, and I think Cedars relationship with Techstars will definitely change that a little bit," said Pritzker's Koopersmith. "This is the type of thing that will get me coming back here more often as a health care investor."
For reprint and licensing requests for this article, CLICK HERE.