Rear-Shaping Jeans Maker to Butt Into New Line
APPAREL: YMI turns to body-shaping products to maintain sales revenue.
Friday, April 8, 2016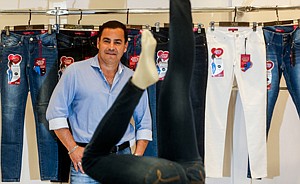 Fashion can be fickle, and David Vered, president of Boyle Heights fashion company YMI Jeanswear Inc., said he has a plan in the event the market turns its back on his butt-lifting jeans.
YMI launched its WannaBettaButt? line in 2012, spurred by demand arising from the popularity of ample-bottomed celebrities such as Nicki Minaj and Kim Kardashian, and Vered said sales have increased by 20 percent since the line was introduced. He declined to be more specific.
"It's all about the fit," said Vered, 49. "What woman doesn't want to have a better butt?"
Yet trends in fashion come and go and Vered, who declined to discuss company financials, said he has a backup plan just in case women lose their interest in butt-enhancing jeans. 
The company will launch a line in June called WannaBettaShape?, which will target the waist and stomach. It also sells a wide variety of nondenim apparel, including dresses, tops, shorts, and swimwear. 
For now, YMI has distribution deals for its butt-enhancing jeans at large department stores operated by JC Penney Co., Burlington Stores Inc., and Style for Less Inc.
YMI said the success of the jeans ramped up all parts of business.
The company recently expanded its operation by acquiring a 50,000-square-foot building adjacent to its 110,000-square-foot headquarters, which also houses design space and showrooms.
The company has grown to 100 employees from 10 in 2000, recently hiring an additional 15 at its Boyle Heights base.
Banking on the long-term success of a narrow brand is a fraught proposition – bell bottoms, anyone? – and yet there is a good chance the body-shaping clothing conceit might stick around, said Houman Salem, chief executive of San Fernando design and development firm Argyle Haus of Apparel Inc.
The uplifting denim that enhances women's appearance has a similar concept as a lipstick or push-up bra and so women are not going to let it go any time soon, he said. 
"The chances of enhancing jeans becoming unpopular are the same as the chances for push-up bra becoming unpopular," Salem said. "It's not going to happen." 
Denim background
Vered moved to the United States from Israel 30 years ago, looking for opportunities in the fashion industry. He found one when he got a job in downtown L.A.'s Fashion District buying and selling discount apparel for different vendors.
He worked his way up in the business before launching YMI in 2000 with partners Moshe Zaga and Michael Godigian. For the next decade or so, the company focused mainly on the junior market, making jeans for teenagers.
Prev Next
For reprint and licensing requests for this article, CLICK HERE.