Eatery Owner Game for Retail
Maire Byrne adds to her ownership plate by opening toy store Quinnie & B.
Friday, April 8, 2016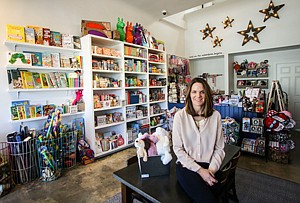 Maire Byrne, 43, founder of Santa Monica restaurants Thyme Café and Local Kitchen & Wine Bar, is whipping up a different kind of dish with the opening of her new toy store, Quinnie & B.
The roughly 500-square-foot shop opened last month next door to Thyme Café.
While it's a different kind of business than she's used to running, Byrne said it's one the neighborhood she's called home for more than 10 years needed.
"I always thought Ocean Park could use a toy store," she said. "I have little kids myself and thought it would be the perfect thing for this area."
Byrne said she wanted to stock the store with items that were fun and quirky but wouldn't break the bank. For example, the shop carries small racing cars for $3 and $45 scooter helmets – in prints such as skulls and cherries – that also come with a pair of goggles.
The shop is named after Byrne's young daughters, Quinn and Bridget, though the kids didn't understand why they couldn't keep all the items for themselves.
"I said to (Bridget), 'It's a business,'" Byrne recalled. "And she's, like, 'What's a business?'"

Byrne plans to launch an e-commerce site for the store this year and she wouldn't be opposed to opening a second outpost if this one proves successful.
Quinnie & B also offers her a nice break from the demands of running two restaurants and managing more than 100 employees, Byrne said.
"Restaurants are tough," she said. "It's not going to be the same moneymaker, but the excitement of the kids coming in fills your heart. It's so cute."
– Subrina Hudson
For reprint and licensing requests for this article, CLICK HERE.