Bank Chief Executive Pays for Pickup With Job
LENDING: Stock price of CIT Group has plunged in wake of deal for OneWest.
Monday, April 4, 2016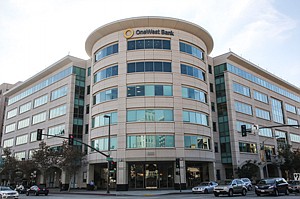 When John Thain, outgoing chief executive of CIT Group Inc., stepped down last week, he left a firm that was in a tight spot.
Since acquiring Pasadena's OneWest Bank in the summer, Livingston, N.J.-based CIT Group watched as its shares sank below $26 in February – down from $47 at the time of the purchase.
"The current price is unacceptable," incoming Chief Executive Ellen Alemany told investors on a strategic update conference call last month as she reviewed plans to sell or spin off the firm's airplane leasing unit, streamline other operations, and focus on being a national middle-market bank.
The board, critical of Thain's handling of the OneWest merger, knocked 9 percent off his total compensation last year compared with 2014, leaving him with $7.5 million, according to a recent regulatory filing.
"The management team and the cultures of the two organizations were not successfully integrated in a timely manner," the board wrote in Thain's report card.
Then there's the newly combined Pasadena-based CIT Bank's community reinvestment plan, a proposal for meeting the needs of low- and moderate-income people in the communities the bank serves that was required to gain regulatory approval of the merger. Federal regulators blessed the OneWest deal – provided the combined lender revise its original reinvestment plan after community groups criticized the initial strategy and got regulators to hold a public hearing.
CIT Bank's revised plan, submitted in December, is still awaiting regulatory review.
"From everything I know about it, it's worse than the one they put out last year," said Paulina Gonzalez, executive director of San Francisco-based California Reinvestment Coalition. Her group led efforts last year to compel CIT Bank to improve its plan, and though Gonzalez hasn't seen the latest proposal, she said she's been speaking with the bank about it since January.
Slight commitment
She said CIT Bank is committing only 4 percent of its deposits to low- and moderate-income communities. Compare that with Irvine-based Banc of California, which agreed to reinvest 20 percent of its deposits when it acquired Puerto Rico-based Popular Inc.'s Popular Community Bank branches in California two years ago.
"The CIT merger, from beginning to end, speaks to how not to do a merger, both on the business side of things and community side of things," Gonzalez said, though she noted that she's been encouraged by Alemany's actions so far.
CIT Group did not make officials available for comment.
Thain, a former Merrill Lynch chief executive, was hired in 2010 to shepherd the lender on its path to recovery after filing for bankruptcy a year earlier, despite receiving $2.3 billion from the federal Troubled Asset Relief Program.
As part of the turnaround plan, CIT Group was prepared to cross the $50 billion asset threshold and become a so-called systemically important financial institution, a designation that shoulders a greater level of government scrutiny.
CIT Group announced the $3.4 billion acquisition of OneWest's parent company, IMB HoldCo, in July 2014 – a combination that created an institution with $67 billion in assets. At the time, Thain highlighted an additional $243 million of net income CIT Group would receive based on OneWest's 2013 earnings.
But by the time the deal closed in August of last year, CIT Group had lowered those expectations, disclosing that OneWest had posted just $200 million in net income in 2014.
Other factors weighing on CIT Group include the underperformance of a commercial banking unit and slowly rising interest rates, which have stymied its growth, said Arren Cyganovich, a New York-based analyst at D.A. Davidson & Co.
Big deal
Despite those issues, Cyganovich said the merger accomplished some of CIT Group's goals – lowering its funding cost and establishing a new source of deposits through an actual retail bank. That will allow the bank to build a better future-deposit franchise versus only having an online bank and brokered CD deposits.
"The deal was still a net positive for the company, but not as accretive as investors and management had expected," he said.
As for the board's criticism that Thain hadn't shepherded the OneWest merger and integration of cultures in a timely fashion, Henry Coffey, an analyst in Nashville, Tenn., for Sterne Agee Group Inc., said he didn't find it surprising that the deal took a year to be consummated, noting that there have been challenges.
"I expected it to take forever to close and it did," the analyst said. "Why are they going through all this chaos now? The answer is because they became a $50 billion-plus institution. It seems to be creating a lot of burden and noise and restructuring."

Cyganovich added that investors have expressed mostly positive sentiments thus far about Alemany, the incoming chief executive, who previously served as chief executive of Royal Bank of Scotland's former subsidiary, RBS Citizens Financial Group Inc. (now Citizens Financial Group) of Providence, R.I.
"I think they believe she can accomplish or has a strong background that can help accomplish the task (the bank) has laid out," he said.
For reprint and licensing requests for this article, CLICK HERE.