Power Plays
AES pushes back against city, state officials in plan to replace its Redondo Beach plant.
Monday, September 28, 2015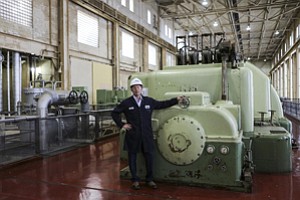 When state regulators in 2010 imposed strict limits on the amount of seawater that power plants can intake to cool their systems, AES Southland Development proposed a plan to replace its generating facility in Redondo Beach with a smaller, air-cooled plant.
But after many Redondo Beach residents and city officials balked at the idea, the Long Beach energy company offered an alternative: demolish the plant and construct a mixed-use development with homes, businesses and a neighborhood park complete with tree-lined walkways.
AES, however, was again unsuccessful. Citizens voted down that project in March by a slim – 52.4 percent – margin.
What to do? AES decided to revert to its original plan. After all, it invested $781 million in 1998 to buy the plant and two others from Southern California Edison.
"Obviously, we would like to get some economic return out of that," said Stephen O'Kane, manager of sustainability and regulatory compliance at AES. "There's significant cost to demolishing and remediating the land, so some economic return would certainly be expected by any company."
But that's easier said than done.
The Redondo Beach City Council and California Coastal Commission have both taken significant measures to block the company's plan to replace the existing 1,300-megawatt Redondo Beach Generating Station – which still operates and has done so since the 1960s – with a 496-megawatt natural gas-firing plant that's still large enough to light about 400,000 homes. The cost, O'Kane estimates, would be at least $550 million after the price of demolition is factored in.
The council adopted an ordinance in June that essentially bans any new power plant within city limits. The state commission followed that up in July with a report designating about six acres of AES' 50-acre site as wetlands, thus creating another hoop the company must jump through to develop any project.
AES, O'Kane said, has no choice but to fight back.
The company filed a petition in Los Angeles Superior Court this month requesting the commission's wetlands designation be revoked. The petition followed a July filing against Redondo Beach challenging the city's procedures for adopting its anti-generating plant ordinance.
Looming uncertainty
While the fate of the property, which is just a block or so off the beach, remains to be determined, one thing is for certain: The existing Redondo Beach Generating Station has to go.
The California Water Resources Control Board approved new regulations in 2010 requiring power plants that use ocean water for cooling to install equipment to minimize the impact on marine life.
AES has until 2020 to either rebuild the Redondo Beach power plant so that it conforms to those rules or shut it down. The company has applied to the California Energy Commission for the necessary licenses to rebuild and operate the smaller, more efficient plant that would use air, instead of water, as a coolant.
The Energy Commission has already approved the company's plan to reconstruct its similar Huntington Beach facility, which was included in the $781 million sale and currently uses seawater for cooling. Reconstruction plans for its third facility – AES Alamitos in Long Beach – are still under review.
The AES plants sell their electricity wholesale. Southern California Edison, one of the main power suppliers in the region, awarded contracts to AES' Huntington Beach and Long Beach facilities, allowing them to contribute power to Los Angeles and Orange counties to offset energy lost in the wake of the San Onofre nuclear power plant closure in San Diego County.
Some opponents of AES' plan say that the Redondo Beach facility not being granted a contract last year from Southern California Edison has bolstered the city's argument against a new plant.
"It's preposterous for the California Energy Commission to continue to process the AES Redondo application when Southern California Edison and the Public Utilities Commission have both said the power is not needed and it would cost us more for our energy to site a new power plant in Redondo Beach instead of Los Alamitos and Huntington Beach," Redondo Beach District 2 Councilman Bill Brand said in an email. "AES Redondo is a poster child for an old power plant that should be permanently retired."
But O'Kane argues it is too early to say with any certainty that the power plant in Redondo Beach won't be needed, which is why AES has decided to continue its pursuit for the Energy Commission's approval. Indeed, the company could have another opportunity to bid on a contract to sell its energy wholesale as early as 2017.
AES, he added, is still open to other alternative uses for the land.
That's also why the energy company is fighting the Coastal Commission's wetland designation.
Pushing ahead
Noaki Schwartz, a spokeswoman for the commission, declined to comment on the Coastal Commission's designation but referred to a report published in July.
In that report, the commission designated nearly six acres on the site as protected wetlands – even though, AES claims, it has been used for power generation since 1905 without such a designation.
Before AES could begin construction on the site, the report says, the company would be required to mitigate other designated wetlands along the coast to make up for the impact on the Redondo Beach wetlands.
The Coastal Commission, in this case, would require AES to mitigate land at a 4-to-1 ratio, meaning it would have to restore nearly 24 acres of other wetlands as a result of constructing a project on the six acres of its Redondo Beach property.
"We're calling foul," O'Kane said, adding that he doesn't think the commission reviewed all the evidence before making its determination. "It looks like AES, the big ugly corporation, is just fighting the Coastal Commission, which is just doing its job. …We're just preserving our rights."
The petitions against Redondo Beach and the Coastal Commission are still pending in Superior Court.
For now, the strategy at AES is to keep all its options open so that it's ready to build its development – whether a power plant, residential community or something else – when all parties come to an agreement.
"It's not all 'Kumbaya' where everyone can sit in a room and make sure everyone's voices are heard," O'Kane said. "Maybe it'll take the pope or somebody else to get us all in a room to come to the right place."
For reprint and licensing requests for this article, CLICK HERE.