Link in Chain
FINANCE: Venture debt firm Hercules looks to connect maturing Silicon Beach technology scene with more funding options.
Monday, September 28, 2015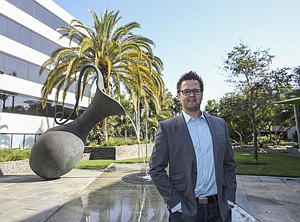 Once the unwanted stepchild of startup investing, venture debt financiers are nudging their way into the L.A. tech industry.
More surprising, perhaps, is the welcome they are receiving from venture capital competitors and previously debt-wary entrepreneurs.
The latest entrant to the scene is Hercules Technology Growth Capital Inc., which opened an office in Santa Monica two weeks ago.
Eyeing the record $4 billion in venture capital Southern California companies attracted last year, Hercules sees venture capital investment as a leading indicator that a market has debt-financing opportunities. It expects the local market to see about $1.6 billion in venture debt deals next year – twice the volume projected for this year.
"Statistically, the L.A. ecosystem has recently been the No. 3 region for venture capital investment," said Managing Director Tim Barnes, who will be leading Hercules' one-man Southern California office. "There's a lot of exciting tech companies in the market. For Hercules, the feeling is it is an opportunity to pursue growth."
Hercules, based in Palo Alto, invested $1 billion in venture debt deals last year. In Southern California, the investment firm will be targeting technology, life sciences, health care and energy technologies. Average debt financings from Hercules are about $15 million, though the amount can vary from $5 million to $100 million. Loan duration is typically 36 months to 42 months, the company said.
Despite the relative novelty of venture debt in Los Angeles, Hercules will have some competition. There are already several banks doing venture debt deals in Southern California, including Beverly Hills' City National Bank; Century City's PacWest Bancorp, which is buying Square 1 Financial Inc.; and Santa Clara's Silicon Valley Bank, which has doubled its local staff focused on venture debt to eight employees over the last nine months.
"There are a number of banks headquartered here. It's made it incredibly competitive, easily as competitive as or more competitive than Northern California," said Rob Freelen, Silicon Valley Bank's L.A. market manager.
At the same time, he pointed out, most banks don't deal in venture debt deals larger than $10 million.
That has created an opportunity for nonbank lenders such as Hercules, which raises its funding on the public markets and whose higher cost of capital compels it to invest in larger deals. With more and more late-stage tech companies such as Snapchat, Honest Co. and Dollar Shave Club in Los Angeles, there could be plenty of opportunity for large venture debt financing.
Moreover, beyond L.A.'s growing number of late-stage companies, Hercules is setting itself down the pipeline from an even larger swell of young, seed-stage companies in Southern California.
"We like to watch the early stage companies because some day they're going to be potential clients," said Michael Hara, Hercules' senior director of investor relations and corporate communications.
Secured interest
Venture debt is used as a less expensive way for typically late-stage companies to finance their growth without giving up equity. Loans usually include warrants to buy stock, allowing lenders to participate in the upside of an IPO or buyout. It is often done alongside the sale of equity or in lieu of an equity sale as a form of bridge capital.
"It's designed to extend the company runway to a milestone event like an equity round IPO, an M&A event or profitability," said Hara. Debt financing comes at "a time when the entrepreneur does not want to give away equity because he knows it's dollars out of his pocket."
When an entrepreneur opts for debt financing instead of equity financing, though, venture capitalists are cut out of a potential deal, sometimes creating tension with venture debt providers.
"As an equity investor, it's destructive to me to invite debt into a company that really isn't fit for it," said Jim Armstrong, managing director of Santa Monica venture capital firm March Capital Partners. "I couldn't imagine allowing a venture debt provider into one of my (early stage) companies because they have some real teeth in their contracts."
Armstrong said he would use his ownership position to block some venture debt deals in his early stage portfolio companies.
That said, he conceded that having venture debt as an option is a good addition for the L.A. tech industry – and he does not object to it in all cases, especially when it keeps founders happy.
"I don't need to grab that last penny on the table," said Armstrong. "I love working with teams again and again. If you pull a move like that, then you aren't working with that team again."
Venture debt providers are also cautious to maintain relationships, especially with venture capitalists. Because tech startups lack assets or a steady cash flow to secure loans, debt financiers often rely on venture capital investment for loan repayment.
Hercules aims to lend to high-growth companies with well-regarded executive teams and valuable intellectual property, said Hara. Because once such a company is found "the venture capital market will fund it, fund it and fund it, so as a debt financer we will get our money back."
"They play on the fact the VC never walks away after one round of financing," said Armstrong. "Because they realize pivots (are a reality) of the business. No companies go in a straight line."
For reprint and licensing requests for this article, CLICK HERE.