Wait for Psychiatrists Can Test Patients
HEALTH CARE: Some doctors won't accept Obamacare fees.
Monday, September 21, 2015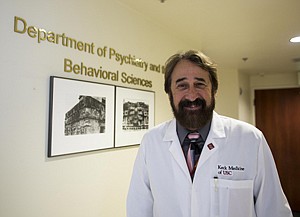 Some L.A. psychiatrists are crazy busy these days.
Demand for their services has surged since the Affordable Care Act minted millions of newly insured patients. But the increase in demand has not been met with a commensurate increase in supply.
That means longer days for some practitioners and longer waits for patients, an uncomfortable proposition for somebody suffering from depression, anxiety or any other mental health issue.

"New patients who come are all telling me, 'I had to wait two to three weeks; I'm glad I'm here but I had to wait that long,'" said Dr. Adib Bitar, medical director at Covina private psychiatric facility Aurora Charter Oak Hospital, who also sees patients privately in Burbank. "That's a common story I hear recently, especially since the Affordable Care Act."
At the heart of the shortage is that while more people are covered for psychiatric care, the number of psychiatrists who accept insurance hasn't increased – and there weren't a lot to begin with. For many, it's a simple issue of money.
"Private insurance pays them less to see a patient with depression than it pays a primary care doctor to see and treat the same patient with depression," said Dr. Renee Binder, president of the Washington, D.C.-based American Psychiatric Association. "It can even be up to 50 percent less."
Psychiatrists also tend to be solo practitioners with minimal if any office staff, which makes handling all that paperwork particularly onerous.
"If some (patient) wants to pay the going rate and has the ability to do so, they won't experience a shortage," said Torrance psychologist Moe Gelbart, whose practice has about 35 mental health providers, including five psychiatrists, who do contract with insurers. "The difference is a $10 to $25 co-pay versus a $400 to $600 bill. Obviously for people of means, they may or may not be willing to pay that, but the average person can't afford that on a regular basis."
Increased demand
Obamacare mandates that medical plans include mental health benefits, building on 2008 legislation aimed at ensuring mental health coverage be generally comparable to medical and surgical coverage in terms of financial requirements and treatment limitations.
As medical doctors, psychiatrists are the only mental health workers who are able to both provide therapy to patients suffering from depression, schizophrenia and a range of other disorders as well as prescribe medication.
And while health insurers must show state regulators they have an adequate number of psychiatrists contracting with their plans, it doesn't always work that way in reality.
Prev Next
For reprint and licensing requests for this article, CLICK HERE.