Earnings Report Lights Fire Under Java Maker
COFFEE: Farmer Bros. sees shares climb after quarter's numbers top expectations.
Monday, September 21, 2015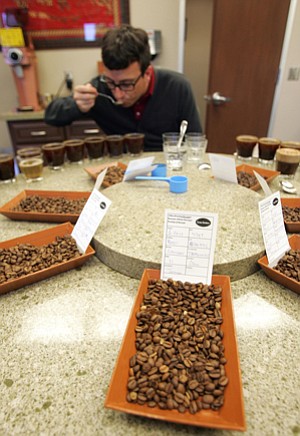 Investors like what Farmer Bros. Co. has brewing.
The South L.A. coffee roaster and distributor, which announced plans earlier this year to decamp for Texas, has been on a cost-cutting jag that helped kick it into its second straight profitable year.
Though the company reported a net loss of $2.2 million (-13 cents a share) for the fourth quarter ended June 30, its adjusted earnings of 23 cents a share beat analysts' anticipated 16 cents. For the full year ended June 30, Farmer Bros. posted net income of $652,000 (4 cents) on revenue of $546 million.
The quarterly earnings report, released Sept. 9, sent shares surging 25 percent the next day, and the company finished the trading week ended Sept. 16 up 23 percent to close at $26.23, placing it among the biggest gainers on the LABJ Stock Index. (See page 32.)
"We're right on with the plan to where we thought we'd be," said Chief Executive Michael Keown. "We're still in a turnaround, but we've been profitable two years in a row, and while we're not where we want to be, in terms of profits in general … we're in the black."
Chris Krueger, an analyst with Lake Street Capital Markets in Minneapolis who follows Farmer Bros., wrote in a Sept. 16 report that the company's more efficient Northlake, Texas, production plant should offer substantial savings, boost margins and put it in a better position to compete for big, lucrative national accounts.
"Overall, we continue to believe that the company is in the early innings of a significant growth opportunity that should pay off for long-term investors," Krueger wrote.
Restructuring
When the coffee roaster dropped the news earlier this year that it planned to close its outdated factory near Torrance and sell its gold mine of a property on South Normandie Avenue, local officials and economic development experts were disappointed but not surprised.
Farmer Bros. has estimated that it will see between $12 million and $15 million in annual savings as a result of the move. The relocation has already begun. The company has moved its roasting, grinding and packaging operations to facilities it has in Houston and Portland, Ore.
It signed a lease earlier this summer for a 538,000-square-foot build-to-suit plant in Northlake, which is north of the Dallas-Fort Worth area. Equipping the facility, which is expected to be completed in 2017, will cost between $20 million to $25 million, the company said.
Funding for that might come, in part, from the sale of its 20-acre L.A. site, for which it expects to receive as much as $35 million.
The ongoing consolidation will help Farmer Bros. pare costs and that, in turn, is expected to allow the company to bid more competitively for new accounts in foodservice, supermarket and convenience store chains.
"We learned our cost structure was too high to allow us to bid competitively," Keown said. "We believe we can not only reduce the cost structure, but with the new facility we can continue to improve quality, innovation and sustainability and become more appealing to larger and more demanding customers."
Krueger, the analyst, said that based on Farmer Bros.' anticipated margins he is increasing his 2016 earnings-per-share estimate to $1.19 a share from $1.10. He also rated the stock a "buy," expecting a return of more than 10 percent over the next 12 months.
For reprint and licensing requests for this article, CLICK HERE.