Art Sting
Stolen paintings may cost pawnbroker $100,000
Monday, September 14, 2015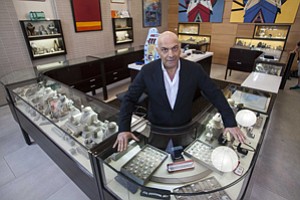 Late last year, budding reality TV personality Oscar Roberts walked into Yossi Dina's Beverly Hills pawnshop, Dina Collection, and offered four paintings by famed American illustrator N.C. Wyeth as collateral for a $100,000 loan.
Roberts wasn't a regular customer, but a person Dina described as a "very famous actor" vouched for him. Besides, Dina requires customers to leave a copy of their driver's license, and his store also keeps a copy of each person's thumbprint and everyone is captured on numerous security cameras.
"You have to be an idiot to come to me," Dina said of someone trying to pull a fast one. And so, despite some lingering concerns, he made the loan.
"It's like Vegas," said Dina, the star of Reelz channel reality show "Beverly Hills Pawn."
"It's gambling."
But Dina lost this bet. It turned out the paintings were among six stolen in May 2013 from the home of an art collector in Portland, Maine, and Dina's now on the hook for the money since his $20 million insurance policy doesn't cover the purchase of stolen goods.
In retrospect, Dina concedes, he should have known better. Though he couldn't find any evidence to confirm it at the time, he said something about the demeanor of Roberts and his companion, a woman named Charlotte claiming to be Robert's attorney, made him suspicious.
"They acted like arrogant big shots," said Dina, who explained that's often a tipoff that prospective sellers are nervous about something.
As it turned out, Roberts had a good reason to be on edge.
About a week earlier, he had been interviewed by agents from the FBI's art-theft unit who questioned him about the missing paintings. According to a criminal complaint, Roberts told the agents a friend named Dean Coroniti had asked him to help him sell the pieces, which Coroniti claimed were inherited.
Roberts told federal agents he would try to locate the missing pieces. Instead, he went to Dina in an effort to offload them and make some money while he still had the chance, according to a court filing. He even texted Dina soon after they met, asking that the asking price be lowered in an effort to speed up the sale.
The FBI said Dina, following state regulations, submitted a routine pawn ticket for the paintings to the Beverly Hills Police Department, where a detective unit employee discovered through the online FBI database that the paintings were stolen. The police then notified the FBI, according to the bureau's account, at which point agents visited Dina's store and recovered the goods.
Prev Next
For reprint and licensing requests for this article, CLICK HERE.