Parking App Startup ParkMe Acquired by Inrix
Thursday, September 10, 2015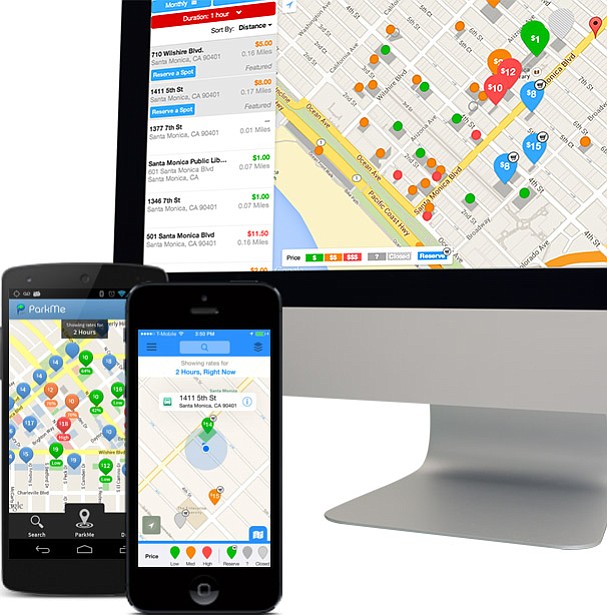 Parking spot finding app ParkMe of Santa Monica has been acquired by traffic data company Inrix for an undisclosed amount.
ParkMe partners with parking lot operators and municipal governments to catalog, reserve and sell off parking spots on its app. With some 29 million parking spaces inventoried, the company also bundles and sells its parking data to third parties. An acquisition offer came after ParkMe had supplied Inrix with parking data for a number of years, said co-founder and Chief Operating Officer Alexander Israel.
Inrix, based in Seattle, collects traffic and parking data, which it sells to auto manufacturers such as Audi, BMW and Toyota that use the data in in-car navigation systems. It also sells to government agencies, including the U.S. Department of Transportation and the U.K. Highways Agency, for road and urban planning purposes.
ParkMe's trove of information and its parking reservation features will be an important boost Inrix's navigation data, said Inrix's Chief Marketing Officer Steve Banfield.
"All of our history, we've focused on improving how people get from point A to point B," he said. "One of the biggest challenges is how do people find a place to park? How do they find a place to end their travel?"
Founded in 2009, ParkMe has raised $8.3 million in venture capital. Israel said the company was still growing, but declined to say if it had reached profitability.
"We did a deal that worked out well for the founders and worked out well for the investors," he said. "It was growth oriented, not necessarily profited oriented, like a lot of startups."
ParkMe will remain a separate brand and will retain its app, operating as a wholly owned subsidy out of its Santa Monica offices. The company's 25 employees will be brought into Inrix.
Technology reporter Garrett Reim can be reached at greim@labusinessjournal.com. Follow him on Twitter @garrettreim for the latest in L.A. tech news.
For reprint and licensing requests for this article, CLICK HERE.