High Time
Monday, September 7, 2015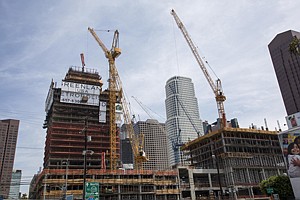 Downtown Los Angeles, its handful of towers rising from a sea of urban sprawl, is in the midst of a building explosion that will reshape a skyline that has been relatively static for a generation.
Six of the 20 largest construction projects underway in Los Angeles County – including three of the top four – are coming out of the ground between First Street and Pico Boulevard, representing more than $3 billion in construction activity.
Largest among them is the Wilshire Grand Center, a $979 million office, hotel and retail project being developed at 930 Wilshire Blvd. by Hanjin International Inc., parent of Korean Air, that was designed by L.A.'s A.C. Martin Partners and is being built by Turner Construction Co. Notable not just for its price tag, the 1.7 million-square-foot tower will be the tallest building in the West, surpassing downtown's U.S. Bank Tower, when it is completed in 2017.
The second-largest noninfrastructure project underway in the region is the $800 million Metropolis, a four-building complex of residential, hotel, restaurants and retail being built in two phases at 899 S. Francisco St. by Chinese developer Greenland Holdings. Designed by Harley Ellis Devereaux and Gensler, and built by Webcor Builders and Pankow Penta Builders, the 3.5 million-square-foot project broke ground in July of last year. Its first phase should be completed next year, with Phase 2 wrapping up two years later.
Metropolis reflects the dominant focus of the large projects under construction downtown: Of the six, just Wilshire Grand and the Los Angeles Federal Courthouse, a $292 million, 633,000-square-foot building designed by Skidmore Owings & Merrill at First and Broadway (No. 12 on the list), have significant office components. The courthouse is being built by Clark Construction.
The other big projects reflect both the demand for residential, retail and hospitality uses downtown. By contrast, there is a persistent glut of office space in the area; the vacancy rate stood at 18.3 percent at the end of the second quarter.
"This is the most construction activity we've had in many, many years," said John C. Cushman III, co-chairman of Cushman & Wakefield Inc. and a leading presence in downtown real estate since the construction of Arco Plaza on South Flower Street in 1967. "It's being driven by the residential side of the coin. Residential and hospitality."
Hotel construction, he said, largely reflects the pressing demand for guest rooms to serve the Los Angeles Convention Center, which he noted has been underserved for years.
After Metropolis, the next-largest project downtown is Oceanwide Plaza (No. 4), a 2.5 million-square-foot project of 504 residences and 183 hotel rooms. The $700 million development, on a 4.6-acre Figueroa Street site just east of Staples Center, is the first U.S. project from Beijing developer Oceanwide. Designed by RTKL, it is being built by LendLease.
The only downtown project that is the product of a local development team is Circa (No. 9), a 1.6 million-square-foot project of two 35-story residential towers at 1200 S. Figueroa. The development, from joint-venture partners Hankey Group and Jamison Partners, also includes retail and parking. It is designed by Harley Ellis Devereaux and HansonLA, and is also being built by LendLease.
Rounding out the largest projects downtown is Ratkovitch Co.'s Bloc (No. 18), a mixed-use hotel and retail redevelopment of the once-and-future Macy's building at 700 S. Flower. The $180 million project, slated to be completed this year, was designed by Studio One Eleven and is being built by Webcor.
– Jonathan Diamond
For reprint and licensing requests for this article, CLICK HERE.