Playing Ball
Bronfman family's Andrew Hauptman discusses lining up charity backing, new G.M. for struggling pro soccer squad.
Monday, October 26, 2015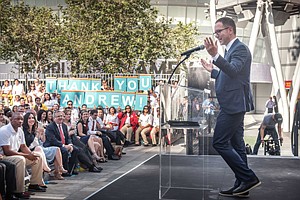 Andrew Hauptman likes to keep a low profile, except when it comes to City Year, a national charity working to increase graduation rates at underprivileged schools, which he helped bring to Los Angeles in 2007. He's the husband of Ellen Bronfman Hauptman and son-in-law of Canadian Charles Bronfman, whose family sold liquor giant Seagram Co. Ltd. to Paris-based Vivendi SA for $34 billion in 2000. He was described as a billionaire by a publicist, but he would not confirm that in an interview. Hauptman, 46, quietly manages his family's assets with his wife through their private investment firm and family office, Andell Inc. in Beverly Hills. Having chaired his final City Year Los Angeles board meeting last week, Hauptman, who will stay on as chairman emeritus, recently spoke with the Business Journal about his work with the charity and some of Andell's investments, including Major League Soccer team the Chicago Fire.
Question: Since you founded City Year Los Angeles, the group has grown from an operating budget of zero to more than $13 million. How did you grow City Year's revenue?
Answer: Ellen and I saw City Year as this fantastic organization that did this incredible work that we were amazed had never been in L.A. but had been in other cities around the country. We were able to effectively build support within the city government and with principals across the community. And we broke some rules. We decided not to have a gala dinner, for instance. We just launched a different kind of fundraising event. We don't honor anyone. We don't sell any tables. It's just really a big inspirational celebration.
Why are you leaving your position as chair?
I think there's something unhealthy about having the same chair stay forever. I've given a lot of … my soul and my time to the organization and that'll continue because I'm a trustee nationally. 
You have a lot of recognizable names on the board from the entertainment and media industries. How did you convince them to join?
If we go to someone who cares about the city, the future, about education, and we explain what we're doing in great detail and we show them the impact, it's almost impossible not to get involved. Take a subject like the dropout crisis that most people think is not solvable, and then to actually show them the impact that we have on reading at grade level or attendance or course performance in math and English. When you see the actual results, they're powerful.
You're also co-founder of the Charles Bronfman Prize, named after your father-in-law, who's previously written a primer for donors on getting into philanthropy and has joined the Bill and Melinda Gates' giving pledge to give away half his wealth. Is there a sort of Bronfman family mandate to participate in philanthropy?
I don't think there's a mandate. We all kind of have the things that we care about. And I think Charles, my father in-law, and my parents as well just encouraged us that we have a responsibility to give back. There is a sense of building on a legacy of family giving and a belief that we can and should try to make a difference where we can. 
Your investment business, Andell Inc., manages some of the assets that grew out of the Bronfman family's position in Seagram, right?
Yes. Ellen's grandfather was the founder of Seagram and so we have the privilege to oversee some of the assets that grew out of that. Today it's very different. Our activities include direct and indirect investments in public and private companies. And we have a real estate division and partnerships with investment managers across all asset classes around the world.
And you have the Chicago Fire. In the Business Journal's Business of Sports issue (Oct. 12 edition), you said that you've poured your heart and soul into the team. Can you give me an example?
If you're involved with a sports team and every single week you're either in the win column or the loss column, it has a different emotional impact than any other sort of investment we've done. Most importantly, we have to figure out a way to have a winning team, which this year is not exactly – it's an understatement, but it hasn't gone well. 
Is that frustrating since the playoffs are just around the corner? 
There's nothing worse than losing. And I'm a competitive type-A person as it is; I don't like losing, period. At Andell, we have a pretty good success rate, which probably makes it even more painful to see us not succeeding on the field in Chicago. We've made some changes this year of late that I feel are really compelling, bringing in a new general manager, who's really got a stellar national reputation. So I'm optimistic.
You were a competitive athlete as well. How did that come about and did it impact your decision to own a sports team?
I grew up in New York, and I was a ranked tennis player and a very competitive soccer player. In fact, my mother sat me down at one point and said, "Choose. You cannot do both." She was driving me at 4 o'clock in the morning an hour away from my house just to play tennis with a coach who was working with Martina Navratilova. And then in the evenings I was playing soccer. I chose tennis at the time. When Ellen and I moved to London after grad school, I kind of reconnected with the sport. And there was a company that I chaired, which was the largest online sports network in the world for a time. That company had relationships with a lot of soccer teams. And then when we moved to Los Angeles, I was approached by a number of the other owners around the league. And we ultimately bought (the Chicago Fire) from Phil Anschutz.

You lived and worked in London for a while. What's your take on what's happening in Europe right now economically? Are you bearish or bullish?

We're cautious overall everywhere. And without getting too granular, we're watching carefully how long are the central governments going to be just printing money and what happens when that stops.
What do you do when you're not working?
I'm spending a lot of time with my kids and my family. We love to travel. Three out of four of us snowboard. I'm a Clippers fan. I've got season tickets to the Clippers, floor seats there.
You lived for a long time in New York, L.A. and London. Which do you prefer?
L.A. is home. We've been here now a long time and, like with any place, it takes some time to find your way and get settled. We continue to do that, to learn about the city. Back to City Year, that's been a really positive element. You learn a lot about what's going on really right in your backyard.
For reprint and licensing requests for this article, CLICK HERE.
Stories You May Also Be Interested In