Flight Path
Jet Edge International rode large-cabin focus to get aircraft repair business off ground.
Monday, October 19, 2015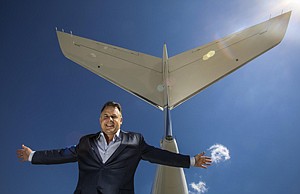 More than planes are taking off these days at Van Nuys Airport.
Revenue has been soaring at the 100,000-square-foot hangar headquarters of private-jet business Jet Edge International since private equity and personal aviation executives took over a small maintenance business catering to the wealthiest of the wealthy – private-jet owners.
By expanding the narrow business model of the original repair shop to managing, operating, crewing, administering and chartering private jets, and more recently brokering sales and acquisitions, Bill Papariella and partner Richard Bard, head of Denver private equity firm Bard Capital Group, have grown Jet Edge's annual revenue to more than $115 million from about $10 million in four years. They now manage a fleet of nearly 50 jets and have expanded the workforce from eight to more than 330.
Papariella said the growth has come by focusing strictly on large-cabin aircraft, the crème de la crème of private jets, such as Gulfstream Aerospace Corp.'s G650, which costs about $65 million. Jet Edge doesn't own the planes in its fleet, it manages them for individual owners, many of whom defray the cost of ownership by having Jet Edge lease out the craft for charter flights.
By limiting the types of jets it pilots, repairs and charters, Jet Edge has expanded the concept of economies of scale beyond just ordering replacement parts and the like. Pilots need only be trained on a single class of craft and regulatory paperwork is also limited. That saves his customers – the jet owners – significant money, Papariella said.
Fixed costs are the killer for private jet owners, he said. "Commonality of aircraft allowed our owners to significantly lower the cost of operating the planes. Typically, we save them between $100,000 and $150,000 on an annual fixed-cost basis to own the jet."
Ground level
Private jets were not on Papariella's radar when he and Bard formed Beverly Hills' Ninth Floor Media in the early 2000s, which invested in movies such as "Mystery, Alaska," with Russell Crowe and Burt Reynolds; "The Patriot," with Mel Gibson; and "Sahara," with Matthew McConaughey.
They sold off the assets around 2008, and Papariella changed careers to personal aviation. He did sales for Braintree, Mass., private-jet business Sentient Jet and industry leader NetJets Inc., a Columbus, Ohio-based subsidiary of Berkshire Hathaway Inc. that buys private jets and divides ownership among several groups. After his contract with NetJets ended, he reconnected with Bard and the two shopped around for a personal jet business they could grow.
Prev Next
For reprint and licensing requests for this article, CLICK HERE.