Work/Life: Tayiika Dennis
The partner at Beverly Hills accounting firm NSBN on having a passion for work, taking chances and the importance of networking.
Friday, October 16, 2015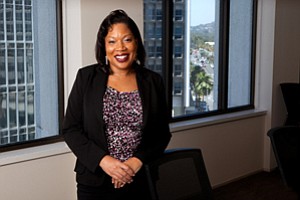 Tayiika Dennis has a lot to celebrate this year. She was named partner at Beverly Hills accounting firm NSBN as well as president of the Los Angeles chapter of the California Society of Certified Public Accountants. It all comes as an unexpected surprise for Dennis, a South Lake Tahoe native, who initially had every intention of following her family tradition of going into nursing when she entered UCLA. However, after realizing biology was not her forte, she found her passion in economics and accounting, which she said is a career for which being passionate is a requirement. After working as a financial analyst for Universal Studios, she decided to pursue her CPA and hasn't looked back. Dennis recently spoke with the Business Journal about her work, how having a dog has changed her life and pushing herself out of her comfort zone.
Describe your morning routine.
I set multiple alarms. I'm not a morning person. One of the best parts of my morning routine is walking my dog. I've had him for a little over five years now, and it's completely changed my life. Before, I would try to sleep as long as possible, but I have to take the time to take a walk. It gets me outside, which is good, and I actually know more of my neighbors now. It's just more social. It's just added a lot.
What does a typical work day look like for you?
Sometimes there'll be a networking event in the morning. My normal office time is 9 a.m., but a lot of times I have a client. This week, my client is in Glendora, so I've had to leave the house probably about 7:30. Normally, there's a lot of client contact. I try to keep an ongoing to-do list. I always try to go to lunch. That's one thing that's in the culture at my firm.
How do you maintain work/life balance?
Definitely working out is the key. I go to a cardio barre fitness studio. I try to do a class in the evening. Having my dog is a key, and I always try to reach out to people. One of my New Year's resolutions was to try to reach out to someone in my life like every day, whether that's a phone call or a text or an email, and whether it's a family member or a friend just to keep that connection. I think that's really important. My friends here are my family, I think.
What is your greatest accomplishment?
May of this year was a huge month for me. I called it my life trifecta. I became a partner in my firm. I became president of the California Society of Certified Public Accountants, Los Angeles chapter and May 27 was my 40th birthday. To celebrate, I went to Dubai, and that is huge for me because I don't travel. It was a huge trip. I went with a friend, and the whole point of the trip was to be out of my comfort zone. That month was the culmination of a lot of hard work.
For reprint and licensing requests for this article, CLICK HERE.