SPECIAL REPORT: Team Player
Show-biz exec Peter Guber has scored ownership deals across range of sports.
Monday, October 12, 2015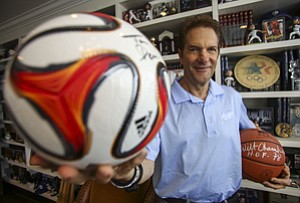 For many business leaders and investors, buying a stake in a professional sports team is a step outside their core expertise, if not their comfort zone. But Peter Guber doesn't see it that way.
Guber, who made his name as a producer of blockbuster films ("Batman," "The Witches of Eastwick," "Flashdance") and later as chairman and chief executive of Sony Pictures Corp., in recent years has become L.A.'s most prolific investor in sports teams. He now owns a stake in three major professional teams – the Los Angeles Dodgers, Golden State Warriors and soccer's LA Football Club, along with some minor league teams.
To him, life as a sports entrepreneur is simply an extension of life as a movie producer. In fact, he refers to games as "location-based entertainment."
"I look at myself as a connector. I connect audiences and artists. Artists can be baseball, basketball and soccer players, and audiences are people who like to be entertained and consume sports as active participants," he said. "Fans think they make a difference in the outcome, and they do. I put them together and provide environments where we can be successful and profitable."
Guber's interest in team ownership dates to his time at Sony in the 1990s, when he tried to engineer the purchase of cable network Prime Ticket and the National Hockey League's Los Angeles Kings along with a stake in the Lakers and the Forum in Inglewood.
The complicated deal fell apart, but Guber was hooked. Rather than buy a cable operation that carried games or a venue that hosted them, why not just go for the team itself?
It didn't always prove easy. Over the years, he tried unsuccessfully to buy the Lakers, the Miami Heat and Oakland A's.
"I've had many losses trying to acquire enterprises," he said.
But at the same time, he found a partner in Earvin "Magic" Johnson, with whom he bought a collection of minor league baseball franchises. He claimed once to have America's largest collection of minor league franchises.
Those teams were sold last year – some at record prices – and he began anew with a stake, along with other investors, in the Dodgers' Triple A affiliate, the Oklahoma City Dodgers, which he moved from Albuquerque, N.M.
What was his biggest turnaround? The Warriors, which were bought in 2010.
"Everybody scoffed at us. They were a major-market team not doing very well. Our business plan was to build a culture," he said.
The Warriors, which won the National Basketball Association championship in June, were losing money when he partnered with Silicon Valley investor Joe Lacob and others to buy the team. They brought in fresh leadership, but held on to executives they liked from the prior regime.
Active roster
Guber is an active owner, attending meetings for the Warriors in the Bay Area at least once a week, despite being active in five other businesses, including a sports entertainment company that made four movies this year and a virtual reality company that he intends to integrate into all of his teams.
"Do I tell the center to jump higher or the point guard to shoot more? No, just like in the movie business I didn't tell comedians to be funny or the action-adventure person to be more exciting," he said. "You cast all of your executives and give them the resources. Leadership is about creating an environment where people can succeed."
His most recent venture was the purchase of the Major League Soccer franchise. Guber first tried to buy the Los Angeles Galaxy from Philip Anschutz, who later opted not to sell. Guber credits MLS Commissioner Don Garber with connecting him to an international group that had purchased the defunct Chivas USA franchise. Guber, along with 23 other investors including Johnson, Tony Robbins, Nomar Garciaparra, Mia Hamm, executives from Dick Clark Productions, Ares Management and Apollo Global Management, purchased the franchise last year. Guber is executive chairman of the group. The franchise was rebranded as LA Football Club. It is set to begin play in 2018 in a Gensler-designed stadium at the site of the Sports Arena in Exposition Park.
"We are building a franchise from the ground up. We're building a stadium downtown. I've made this movie before," said Guber.
At 73, he's a strong presence in all his businesses. He spoke to the Business Journal in his Mid-Wilshire office, which is the headquarters of his Mandalay Entertainment, which produces films, TV programs and sports shows. He attends many games, but more importantly goes to all the meetings for his new soccer team.
He and his partners are always looking for other sports properties in which to invest, both locally and internationally; he went to China and Cuba this month. For example, they made an offer to acquire the National Hot Rod Association drag racing league, but the deal didn't work out because of the league's status as a nonprofit.
What's the worst thing about owning sports teams? Losing hurts, Guber said.
But losing is part of the game, he said. For that matter, not knowing what will happen is part of the thrill.
"At the end of the day, if you run teams like a business and have the passion and care about the players, fans and executives, you have a fair chance to be successful," he said. "With a little luck."
For reprint and licensing requests for this article, CLICK HERE.