SPECIAL REPORT: Team Player
Show-biz exec Peter Guber has scored ownership deals across range of sports.
Monday, October 12, 2015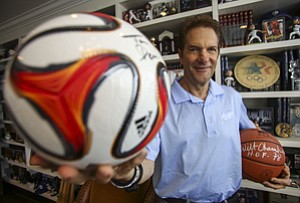 For many business leaders and investors, buying a stake in a professional sports team is a step outside their core expertise, if not their comfort zone. But Peter Guber doesn't see it that way.
Guber, who made his name as a producer of blockbuster films ("Batman," "The Witches of Eastwick," "Flashdance") and later as chairman and chief executive of Sony Pictures Corp., in recent years has become L.A.'s most prolific investor in sports teams. He now owns a stake in three major professional teams – the Los Angeles Dodgers, Golden State Warriors and soccer's LA Football Club, along with some minor league teams.
To him, life as a sports entrepreneur is simply an extension of life as a movie producer. In fact, he refers to games as "location-based entertainment."
"I look at myself as a connector. I connect audiences and artists. Artists can be baseball, basketball and soccer players, and audiences are people who like to be entertained and consume sports as active participants," he said. "Fans think they make a difference in the outcome, and they do. I put them together and provide environments where we can be successful and profitable."
Guber's interest in team ownership dates to his time at Sony in the 1990s, when he tried to engineer the purchase of cable network Prime Ticket and the National Hockey League's Los Angeles Kings along with a stake in the Lakers and the Forum in Inglewood.
The complicated deal fell apart, but Guber was hooked. Rather than buy a cable operation that carried games or a venue that hosted them, why not just go for the team itself?
It didn't always prove easy. Over the years, he tried unsuccessfully to buy the Lakers, the Miami Heat and Oakland A's.
"I've had many losses trying to acquire enterprises," he said.
But at the same time, he found a partner in Earvin "Magic" Johnson, with whom he bought a collection of minor league baseball franchises. He claimed once to have America's largest collection of minor league franchises.
Those teams were sold last year – some at record prices – and he began anew with a stake, along with other investors, in the Dodgers' Triple A affiliate, the Oklahoma City Dodgers, which he moved from Albuquerque, N.M.
What was his biggest turnaround? The Warriors, which were bought in 2010.
"Everybody scoffed at us. They were a major-market team not doing very well. Our business plan was to build a culture," he said.
For reprint and licensing requests for this article, CLICK HERE.
Prev Next