Virtual Change
Blockchain Capital sees real money in bitcoin and digital currency's tracking technology.
Sunday, October 11, 2015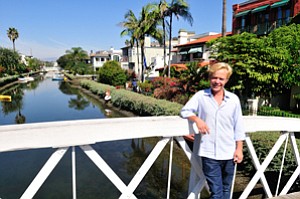 You might not think that one of the leading bitcoin experts in Los Angeles once starred in a movie with Sinbad, but that's exactly how venture capitalist Brock Pierce got his start.
However, the former child star with bit parts in the "Mighty Ducks" films and a leading turn in "First Kid," soon turned away from acting and focused his attention on the business world.
"I've been an entrepreneur and building real businesses since I was 17 and was making early stage investments not long after," said Pierce, who's now 34 and managing director at Venice's Blockchain Capital. "I think I lost money on all the early ones. That's called paying tuition."
His firm, which is co-headquartered in San Francisco, closed a $10 million fund in June from which it typically invests between $100,000 and $500,000 in early stage bitcoin companies. The fund's limited partners are made up of bitcoin chief executives, hedge fund managers, banking executives and a few venture capital firms, said Pierce. Blockchain has invested in 38 bitcoin startups, including a digital wallet developer, a bitcoin exchange and an ATM company.
Not afraid of trying his hand in unproven industries, Pierce founded Santa Monica's Internet Gaming Entertainment in 2001 to sell virtual goods such as swords, shields and currency to video gamers, particularly fans of Activision Blizzard Inc.'s "World of Warcraft."
However, Activision started cracking down on the practice due to how much companies such as Pierce's were charging. Internet Gaming agreed to stop selling virtual goods altogether in 2008 after settling a class-action lawsuit filed by an unhappy gamer, who alleged the practice diminished the joy he got from playing "World of Warcraft."
Problems aside, those experiences taught Pierce the ins and outs of virtual currency and put him in touch with early bitcoin entrepreneurs.
"I got pinged by people early on saying, 'Hey, Brock, what do you think of this?'" said Pierce. "As I saw critical mass building, I dropped everything and got involved in the space."
Of the few bitcoin investors in Los Angeles, Pierce is perhaps the most bullish. In May, he became chairman of the Bitcoin Foundation in Washington, D.C., a public advocacy group.
"He has a vision across the spectrum. He has a finger on the pulse of the industry," said Steve Beauregard, chief executive of bitcoin payment platform GoCoin of Santa Monica, one of Blockchain's portfolio companies. "You really can't find someone who is a better champion of the industry."
'Wild West'
Bitcoin could use a champion because the complexities of the cryptocurrency have helped people to exploit it.
Launched online by mysterious creator Satoshi Nakamoto in 2008, bitcoin is a digital unit of exchange tagged with unique encrypted computer codes. While currencies are monitored by central government authorities, such as the Federal Reserve, bitcoin circulation is regulated by its software program. Bitcoin ownership is registered by a public ledger software program called the blockchain, from which Pierce's firm took its name.
However, the commodity has become a favorite of criminals. It became infamous as the method of choice for buying drugs and weapons on online black market Silk Road, which was shut down by the FBI in 2013. Pierce notes that many of those criminals were stunned to find out that bitcoin's public ledger makes it difficult to remain anonymous. That included two FBI agents in March who were arrested and accused of pocketing $1 million worth of bitcoins during the Silk Road sweep.
The FBI points out that virtual currency schemes reported to the agency's Internet Crime Complaint Center more than doubled in 2014 compared with the year before.
Many people complained of being tricked into giving their bitcoins to criminals or having their bitcoins stolen out of poorly secured digital wallets. Though the $375 million invested in bitcoin startups in the first half of 2015 has already topped total investment from last year, according to database CB Insights, many investors remain wary.
"It's the questions I don't know to ask that scare me about investing in the space," said Peter Lee, managing partner at Beverly Hills venture firm Baroda Ventures. Despite Lee's hesitation, the firm has still invested in two bitcoin companies. "It is very early days. It's the Wild West."
Baroda may also invest with Blockchain, said Lee. Though no final decisions have been made, Baroda is looking to Blockchain as a guide through the Byzantine bitcoin world.
"If you don't spend a lot of time, it's very different to know what is innovative, what is cutting edge," said Lee.
And the market does move fast.
Two years ago, speculative betting drove bitcoin prices to a peak of $974 a unit. Now bitcoin is trading at $244. Many other investors have decided to steer clear of that wild swing.
Mining coins
These days, Pierce is a big believer in bitcoin's potential as a payments system in developing countries such as Kenya or as a wealth preservation tool in countries prone to printing money, such as Argentina.
"We often take it for granted in the U.S. that you wake up and go to your bank account and you have cash," said Pierce, who works in his home office on the Venice canals; four other employees work in San Francisco. "It's often difficult to describe to an American, but if you grew up in these places, it's pretty obvious why this is useful."
While Pierce is still buying bitcoins, he said he's especially optimistic about the blockchain technology. Developed to verify transfer and ownership of bitcoin, it could theoretically be used to verify other things, such as ownership of stock certificates, notarization or authentication of contracts.
Last month, 22 international banks, including Goldman Sachs, JP Morgan and Credit Suisse, backed New York startup R3CEV's efforts to create an international blockchain-based payment and settlement system, with the hope of substantially speeding up transactions, reducing costs and improving security.
Pierce said he viewed that development as a promising sign. He compared blockchain's evolution to the early days of building the Internet, when an infrastructure consisting of broadband, computing power and protocols was created for today's online applications.
"Much like the 1996 Internet, we are in that sort of phase of building the plumbing," said Pierce. "The tech has never failed, but those early Internet companies making applications often made mistakes."
Dot-com-era companies such as online toy retailer eToys, on-demand grocery delivery Webvan and online fashion retailer Boo.com all preceded businesses that are taken for granted today. However, they went bankrupt because their ideas outpaced the existing technology at too high a cost.
Pierce said the bitcoin industry can be viewed through a similar lens.
"Bitcoin is the biggest technology since the Internet," said Pierce, though he said it could take 25 years or more to realize its full potential.
Or, a company could make it happen tomorrow.
"Market timing is everything," he said.
Technology reporter Garrett Reim can be reached at greim@labusinessjournal.com. Follow him on Twitter @garrettreim for the latest in L.A. tech news.
For reprint and licensing requests for this article, CLICK HERE.