Virtual Change
Blockchain Capital sees real money in bitcoin and digital currency's tracking technology.
Sunday, October 11, 2015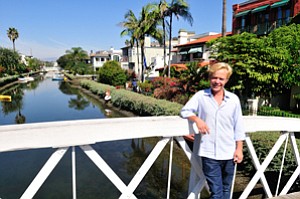 You might not think that one of the leading bitcoin experts in Los Angeles once starred in a movie with Sinbad, but that's exactly how venture capitalist Brock Pierce got his start.
However, the former child star with bit parts in the "Mighty Ducks" films and a leading turn in "First Kid," soon turned away from acting and focused his attention on the business world.
"I've been an entrepreneur and building real businesses since I was 17 and was making early stage investments not long after," said Pierce, who's now 34 and managing director at Venice's Blockchain Capital. "I think I lost money on all the early ones. That's called paying tuition."
His firm, which is co-headquartered in San Francisco, closed a $10 million fund in June from which it typically invests between $100,000 and $500,000 in early stage bitcoin companies. The fund's limited partners are made up of bitcoin chief executives, hedge fund managers, banking executives and a few venture capital firms, said Pierce. Blockchain has invested in 38 bitcoin startups, including a digital wallet developer, a bitcoin exchange and an ATM company.
Not afraid of trying his hand in unproven industries, Pierce founded Santa Monica's Internet Gaming Entertainment in 2001 to sell virtual goods such as swords, shields and currency to video gamers, particularly fans of Activision Blizzard Inc.'s "World of Warcraft."
However, Activision started cracking down on the practice due to how much companies such as Pierce's were charging. Internet Gaming agreed to stop selling virtual goods altogether in 2008 after settling a class-action lawsuit filed by an unhappy gamer, who alleged the practice diminished the joy he got from playing "World of Warcraft."
Problems aside, those experiences taught Pierce the ins and outs of virtual currency and put him in touch with early bitcoin entrepreneurs.
"I got pinged by people early on saying, 'Hey, Brock, what do you think of this?'" said Pierce. "As I saw critical mass building, I dropped everything and got involved in the space."
Of the few bitcoin investors in Los Angeles, Pierce is perhaps the most bullish. In May, he became chairman of the Bitcoin Foundation in Washington, D.C., a public advocacy group.
"He has a vision across the spectrum. He has a finger on the pulse of the industry," said Steve Beauregard, chief executive of bitcoin payment platform GoCoin of Santa Monica, one of Blockchain's portfolio companies. "You really can't find someone who is a better champion of the industry."
Prev Next
For reprint and licensing requests for this article, CLICK HERE.