Work/Life: Meredith Amdur
The chief executive of Wanted Technologies on being driven, savoring international travel and balancing it all.
Friday, October 2, 2015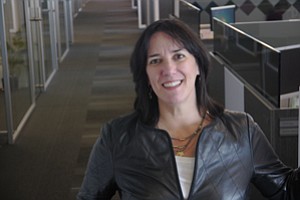 Meredith Amdur seems to be an expert at juggling a lot. She runs a global company, Wanted Technologies, remotely, and often shuffles among Los Angeles, New York and Quebec City, Canada, while living in El Segundo with her husband, an artist. While she has served as vice president for DirecTV's Digital Entertainment Products Group and also held senior positions at Microsoft Corp., she was anxious to work for a smaller company. A graduate of Cornell University's M.B.A. program, Amdur also has a Master's of Science Degree from the London School of Economics. She recently spoke with the Business Journal about her job, squeezing in time for fitness and making work like play.
Describe your morning routine.
I (often) commute to the East Coast, so my typical morning routine is usually on the phone by 6:30 a.m., boarding a transcontinental flight by 11, making the connection to Canada, and being at my desk by 8 a.m. the following morning. Thank God for airplane Wi-Fi. The plane can actually be a highly productive work time. When I'm back at home (in the South Bay), I squeeze in a nominal six-lap jog around the track at the local high school at 7 a.m. and try to ignore my smartphone pinging emails at me.
What does a typical work day look like for you?
I'd say I don't really have a typical day, but most involve some time on email or the phone, following up with customers and then check-ins with my management team. Other days I'm writing investor presentations, talking to investors, working through budget questions and generally trying to rally the troops. I'd say 40 percent of my time is on the phone or talking live, and 60 percent is on the screen in some fashion like GoToMeeting with customers and partners.
How do you maintain work/life balance?
Since I travel a lot, I try to obey the rule of no more than three nights and four days away in a week to maintain a marriage, but it's tough. Being driven to succeed for shareholders, for your team, for your customers is inherently inconsistent in some ways with optimizing for yourself, regardless of what some experts say. But it's a choice and trade-offs we all must make. Fortunately, for me, work feels like a hobby.
What is your greatest accomplishment?

I have built a broad and diverse set of experiences across three continents in three different industries in multiple different functions. I've had the pleasure of living in many different places and have built an incredible network of colleagues who have become good friends.
For reprint and licensing requests for this article, CLICK HERE.