Veteran Developer Finds New Life in Old Properties
REAL ESTATE: Value-add office approach hailed as big plus by Nelson Rising.
Monday, November 30, 2015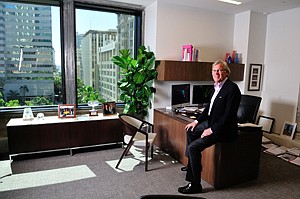 Nelson Rising is a man on a new mission – on his old turf. Having spent much of his career leading the development of some of the biggest new skyscrapers in downtown Los Angeles, the 74-year-old real estate veteran is now watching that area transform, and much of it by his own hand. For he has shifted the focus of his company, Rising Realty Partners, to adapting old buildings there into high-end creative office projects. For example, his firm acquired One Bunker Hill last month in a partnership with Houston real estate investment firm Lionstone Investments. We sat down with Rising at his downtown office to talk about his legacy and future plans, his passion for politics and even what it's like to play golf with Donald Trump.
Question: It doesn't seem like retirement is in the cards anytime soon, is it?
Answer: I flunked retirement twice. I don't intend to try again. The first try lasted 18 months then the second only two weeks. Retirement made no sense for me.
You have a reputation for working very long hours. Do you even sleep?
Well, fortunately, I don't need to sleep too much. So, I get up early every day. I wake at 5:30 a.m. and work out four mornings a week. Then the other three days I go for long walks. 
What is your management strategy like?
One of my favorite phrases is "Bad news doesn't get better with age." And so, if something is going wrong, we have a culture where people come to me saying there is a problem, not pretending it's not there. That notion means we're all in this thing together. That's the way you avoid a lot of problems.
Why are you now focused on converting older buildings?
We like to do value add because it is almost like starting anew, but you also get the history. The components that we have downtown, the bones are already here. … (One Bunker Hill) will be a very successful building because of its historical impact and because it's just a beautiful place to walk into work every day. We learned from (PacMutual) that people like to work in these buildings.
How much will the success of the building that we're speaking in right now, PacMutual, inform One Bunker Hill?
Well, we've learned a lot in the restoration of this. My son Chris played a major, major role in convincing me to buy (PacMutual). I'm very proud of him and what's here. Our space right now is value add. We're not out there buying core assets. One Bunker Hill is a beautiful building completed in 1931. It was Southern California Edison's headquarters. The lobby is sensational. We have some other projects, but I can't talk about them because they haven't closed yet.
What would be your ideal tenant for One Bunker Hill?
A large one.
Is there a specific type of tenant that you're expecting to be interested in the building?
Those that pay rent. (Laughs)
But you are planning what some would call a "creative office" building such as this one?
When I first started in the office business, it was rent per square foot and price per square foot. Today, it's still price per square foot, but because of people working in different ways, it's now cost per employee. If you look around our office here, you'll see that I'm the only person with an office. When I'm not here, it's a conference room. The office for millennials is a headset.
Is downtown L.A. your focus?
We like downtown and we like Pasadena. If you look at the buildings we have purchased and are looking to purchase downtown, they're all in short walking distance to retail and restaurants and residential. It's taking a lesson from the other great cities in this country and around the world.
Where do you like to hang out in Los Angeles?
I like going to UCLA football games. My wife, (Sharon), and I like to go to nice restaurants. We live in La Cañada Flintridge, so we are closer to Pasadena, and we often go out there. We've been married 52 years and we have a lot of friends, so we mostly love to spend time with our family and our friends. It's great to be with the grandkids. They're getting older. My son Chris' twin daughters will be 11 in March and his son is 6.
What is something besides business you're currently passionate about?
I'm on several boards. I'm pleased to be buildings and grounds committee chair at (Caltech). It's a wonderful institution and ? have you seen "The Martian" yet?
I haven't.
You gotta see it. It's a must-see. Anyways, Caltech helped to (develop and fund) a Thirty Meter Telescope that will be on Mauna Kea in Hawaii. It's gonna (cost) about $1.4 billion, funded by a consortium of nations: Japan, China, India and Canada. The use time will be allocated by the amount of contribution you made. The University of California system and Caltech are each in for $150 million. What we'll find out with that telescope goes back to my reference to "The Martian."
You've spent periods in politics, going back to campaigning for former Los Angeles Mayor Tom Bradley. Is that still a passion?
I'm very interested in public policy, and I was a very early supporter of President Obama. I first met him in 2007, and I was very actively involved in that campaign. I suspect from time to time I'll be involved in supporting candidates I admire and respect.
What is Obama like in person?
Oh, he's terrific. He's bright, decisive and thoughtful. He's not somebody who is going to make some bold pronouncement like certain people you see in the debates these days.
Speaking of debates, what are your thoughts on this current presidential race?
It's bizarre, first of all, having that many candidates on the Republican side. The way the Republican debates are set up, it's just about crushing soundbites. So then you get Trump talking about taking a group of people the size of the population of New York and deporting them. That's 11 million (undocumented) residents. It would put our economy into a complete depression. The construction industry would be in real trouble. It's just Looney Tunes.
For reprint and licensing requests for this article, CLICK HERE.