BuzzKill
Pot shop's famous name can't be trademarked
Monday, November 30, 2015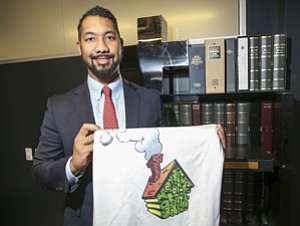 Pot shop House of Dank has transformed in the past six years from a small medical marijuana dispensary in L.A.'s Pico-Union neighborhood into a prominent fixture in today's hip-hop culture.
Frequented by rap stars such as Lil Wayne, whose real name is Dwayne Michael Carter Jr., and featured in rap song "Givenchy" by Bryan Williams, better known as Birdman, the place is increasingly famous.
So it was no surprise to Matt Robinson, who manages the shop's brand, when other House of Dank dispensaries popped up in Compton, San Bernardino and even Detroit.
But the trouble for Robinson is he has no way to protect the name House of Dank because marijuana-related brands cannot legally get trademark rights.
That, however, could change soon after California's new Medical Marijuana Regulation and Safety Act, or MMRSA, takes effect Jan. 1, according to Robinson's attorney David Welch.
The new law is poised to create a licensing system, which Welch expects will further legitimize the marijuana industry. In fact, Welch said he has already begun working with the U.S. Patent and Trademark Office and California's Secretary of State's Office to establish ways to begin protecting pot-related brands.
Negotiations are ongoing, he said, and major obstacles must still be cleared. For example, current federal and state trademark laws forbid "immoral" products from obtaining protection. And because federal law still deems marijuana illegal, Welch said it falls within that category.
Significant progress
Even so, he said he has made significant progress since he began negotiating with regulators about six months ago.
"We have actually received a letter from the USPTO about ways in which we can trademark cannabis-only products," Welch said. "There are ways we can do it and that's what we're working with them on."
California's new medical marijuana laws are an important step in the process, he said, adding that it's only the beginning of what's to come.
Indeed, Welch's downtown L.A. law firm, D|R Welch, which exclusively caters to the marijuana industry, is bracing for a huge increase in business next year thanks to MMRSA. It is intellectual property work, he added, that's driving the most growth.

The six-lawyer firm could easily double its staff next year, he said, and it will likely move into a larger space downtown by February.
Yet despite Welch's lofty expectations, the true impact of the new marijuana laws is far from certain.
MMRSA, which consists of three separate bills, establishes a new Bureau of Medical Marijuana that will operate under the state Department of Consumer Affairs beginning Jan. 1. In essence, MMRSA just grants the bureau power to create more specific regulations, said Jerod Gunsberg, a criminal defense attorney in Beverly Hills who specializes in part in medical marijuana defense cases.
"This doesn't change the substantive medical marijuana laws in California," Gunsberg said. "It's also important to note that none of the new laws grant any immunity from federal law."
In general, Gunsberg said he doesn't think the rights of marijuana businesses will be expanded much until the federal government legalizes the drug.
Welch, on the other hand, is far more confident that major changes to marijuana regulations are imminent.
Major changes
He has focused entirely on the industry since 2009, although that wasn't his original intent. Welch worked as a criminal defense lawyer after graduating from downtown's Loyola Law School in 2007.
But everything changed when he was hired by a client in 2008 who was accused of selling marijuana illegally.
"I wanted to research every possible defense and it turned out there was this thing called medical marijuana, which I had no idea even existed," he said. "Everything seemed so new and by looking at this law I saw this whole schedule of regulations for medical marijuana."
Welch's practice hit a new level the following year when he represented a dispensary in Lake Forest after the city shut it down. The dispute went all the way to the California Supreme Court in 2013, but Welch ultimately lost as the court decided municipalities have the right to ban dispensaries.
The case did, however, bolster Welch's reputation and allowed him to start hiring more lawyers.
Since then, the firm's client base has continued to grow as the state's laws have developed further. D|R Welch has, for instance, helped dispensaries trademark their brands as they pertain to promotional materials – such as clothing or social media – which is the process Welch is guiding House of Dank through now.
The ultimate goal, though, is to begin trademarking actual marijuana products. For example, House of Dank offers a strain of weed called OG Moon Rocks, which it hopes to eventually trademark.

Looming uncertainty
For Galaxy Caregivers Group, the legal entity that operates House of Dank, regulatory changes couldn't come soon enough.
The dispensary closed its longtime storefront in Pico-Union earlier this month due to zoning and land-use compliance issues, but Robinson said a new location in East Los Angeles should be open within a week or two.
The good news for House of Dank, he said, is that the new space offers about five times more space than the original location. But the bad news is House of Dank still has no way of stopping other dispensaries from cashing in on its name and reputation.
"All the big rappers stop by every time they're in town and say what's up. They love us," Robinson said. "But now there's one in Detroit. They copied the exact same photos and pictures we have."
He doesn't necessarily want to stop others from opening their own House of Dank; he just wants them to pay a licensing fee.
"I would like to get the trademark stuff done so I can have House of Dank as my business like McDonald's," he said. "That's how I eventually want to do this. We could have one in every city."
For reprint and licensing requests for this article, CLICK HERE.