Anyone in Lather for Razor IPO?
INTERNET: Rivals cutting into Dollar Shave Club's early lead. court fights over hiring contracts.
Monday, November 30, 2015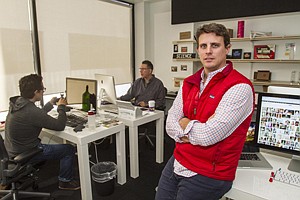 Dollar Shave Club has a fast-growing business and there are rumblings of takeover interest. However, making an exit might be tricky.
The online razor subscription service has grown rapidly since its founding in 2012, thanks in large part to a funny commercial featuring founder and Chief Executive Michael Dubin that went viral on the Internet.
The Santa Monica startup reported revenue of $64 million last year, up from $19 million in 2013, and in June estimated its sales would be $140 million this year.
But despite rapid revenue growth and a deep bankroll of venture capital, Dollar Shave Club is facing down cash-flush copycat rivals, including heavily financed New York razor subscription startup Harry's, which has raised $287 million and last year bought a razor manufacturing plant in Germany.
Then there's Procter & Gamble's razor brand Gillette, which launched Gillette Shave Club in June.
Against such increased competition, Dollar Shave Club will likely be considering its options carefully.
Its fast growth has attracted more than $164 million in venture capital of its own, including a $75 million Series D round in June, which was topped off with a $15.7 million insider round two weeks ago, according to a filing with the Securities and Exchange Commission and a source with knowledge of the situation who was not authorized to comment publicly on the matter.
Dollar Shave Club's Series D, and J.P. Morgan Securities' involvement as a stock broker, is possibly a precursor to making an initial public offering, positioning itself for a sale or merger next year, the source said.
"They're not filing for an IPO this year, but there's a lot of M&A interest and there is a lot of IPO interest," said the source, who added the company is on track to post its largest fourth-quarter revenue.
A Dollar Shave Club spokeswoman declined to comment.
The company's subscription plans range from $1 to $9 a month. It claims to have more than 2.4 million subscribers as of this month. Subscribers get razors delivered regularly to their door through the mail.
An IPO would give Dollar Shave Club more cash to fend off rivals, but going public could be a tough sell to the volatile markets.
"Gillette has better technology and Dollar Shave Club doesn't have anything novel, except lower prices," notes Ali Dibadj, an analyst at AllianceBernstein of New York.
However, recent successful tech offerings, such as Square Inc.'s $279 million and Match Group Inc.'s $460 million respective IPOs, both earlier this month, present a more optimistic case for heading to the public markets.
Prev Next
For reprint and licensing requests for this article, CLICK HERE.