High on Weed
MARIJUANA: MedMen hopes to smoke out opportunities for its managerial services in blooming pot sector.
Monday, November 16, 2015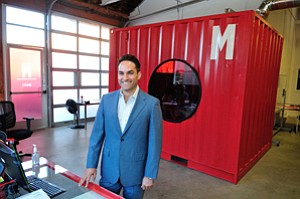 While hotel management and ketchup manufacturing are easy-to-grasp mainstream businesses, managing marijuana companies is not.
That's why Culver City's MedMen prefers to compare itself to Marriott or Heinz when explaining what it does: providing operational management for state-compliant, fully licensed businesses that grow, process or sell marijuana.
The firm offers clients back-office support, basically replacing the need for a C-suite, and also hires and manages employees.
"The space is being institutionalized and it won't matter that its cannabis," said MedMen Chief Executive Adam Bierman. "It's big manufacturing and it's big agriculture at the core."
Though the firm has focused primarily on marijuana industry consulting since 2013, Bierman has been steering MedMen into operations management over the past year – his goal from the start. The idea is to leverage economies of scale while becoming a market leader in an increasingly institutionalized and cash-rich sector.
This tack has helped MedMen secure 10 operating contracts in Nevada, Maryland and California as well as nearly $8 million in funding over the past year from family offices, a real estate fund and other institutional investors, said Bierman, who added that MedMen will be announcing an additional eight-figure infusion before year's end.
The firm also struck a deal last month to lend its production expertise to a new line of extracts being launched by Canadian medical cannabis producer MedReleaf Corp., one of about two dozen licensed marijuana producers in that country. In exchange, the Toronto firm, which serves thousands of patients from its 55,000-square-foot headquarters, made an undisclosed equity investment in MedMen. As part of the agreement, Bierman's firm will also help MedReleaf launch in the United States by licensing some of its products to another MedMen producer in Nevada.
"What drew us to them is their experience and level of professionalism, said MedReleaf Chief Executive Neil Closner, noting MedMen's management team comes from a variety of industries. "They're not just a group of guys who've just been growing legally or otherwise in their basements who fashion themselves as experts."
The bar is being raised for both small and large cannabis companies alike, in part because of the talent getting involved from other sectors, said Troy Dayton, chief executive of Oakland cannabis investment and research firm ArcView Group. He added that companies, such as the ones that MedMen serves, need experienced leaders to stand out and lure capital.
"Funding … gives them the ability to establish market dominance or market position when people are beginning to decide what brands they will support over the long haul," he said.
Prev Next
For reprint and licensing requests for this article, CLICK HERE.