California Out of Competition?
LAW: Companies move to bring hiring disputes back to home state.
Monday, November 16, 2015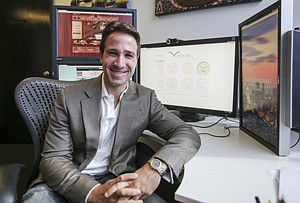 When Adam Mendler vets a potential hire for his Westwood conglomerate of e-commerce and tech startups, he doesn't even consider whether the applicant is subject to a noncompete agreement with another employer. Not because he likes being sued – but because California courts don't seem to care.
Despite other states' laws, local courts have consistently upheld a California law that bars employers from restricting workers from accepting a new job with a competitor.
"As an entrepreneur, there are so many things on our mind each and every day and this is the last thing that's on my mind," said Mendler, chief executive of the Veloz Group.
But suddenly, it seems, a new threat has emerged that could upend California's nonenforcement of noncompete agreements, at least as it pertains to employees who move to California to join a competitor. Companies in other states, where noncompete contracts are enforceable, have started including a "choice of law" provision in their noncompete contracts, which essentially demand the agreements be governed by the laws of their state, said Yesenia Gallegos, a partner in the Century City law offices of Fox Rothschild.
"They'll even take it a step forward by saying, Should any dispute arise out of this agreement, that dispute must be litigated in this state," she said. "They think they can enforce an agreement anywhere in the country."
The trouble is, sometimes they have been able to. And sometimes, it's as simple as who files first.
Gallegos is representing an executive at an intellectual property management firm who left his former employer in Boston for a gig with a competing business in California. His former employer, she said, sued him in Massachusetts, alleging he had breached his noncompete contract.
But Gallegos' client filed his own lawsuit in California last year, seeking to block the Boston company from enforcing the contract. That case, filed in Alameda County Superior Court, reached a ruling – in the client's favor – before the Massachusetts case was resolved.
"Once you get a judgment in one state court, if there's an identical dispute pending in another state, the other state has to give full faith and credit to their sister state's judgment," Gallegos said. "The lesson for everyone involved, regardless of whose side you're on, is get your ducks in a row and file your lawsuit first."
However, Gallegos' case was appealed. It is pending in a California Court of Appeal with oral arguments set to begin as early as next month. So it is possible the judgment could be overturned.
Safe haven
California's law against noncompete agreements dates back to 1872, and it was last upheld by the state's Supreme Court in 2008.
A noncompete agreement is traditionally used by a company that wants to prevent its workers from joining a competitor and taking their industry knowledge with them. They're particularly common in the tech industry, which garnered a reputation for job-hopping employees during the dot-com boom.
Still, there are a few limits on competition in California. For example, employers can enforce their "trade secret" rights, such as proprietary customer lists, when a former employee jumps to a competing business. But, by and large, the state tends to welcome employee mobility.
As a result, many local employers don't consider the agreements to be much of a hindrance in their ability to hire top talent from their competitors.
"It has been nonenforcable in California for as long as I can remember," said Daniel Tudo, founder of downtown L.A. tech recruiting firm Startup Tap. "I don't think companies think about it too much."
In general, the law allows companies such as Veloz to focus more of their efforts on hiring workers based on their skills rather than legal obligations.
Mendler, for instance, has adopted a rigorous screening process that's designed to test applicants' ability to code at an elite level.
"Ninety-nine percent of applicants aren't able to pass our screening process," he said. "We're not looking for people who can do the basics of programming. We're looking for people who deeply and thoroughly understand computer science."
Conducting that vetting process is hard enough, he said, noting that it helps to recruit the select few people when he doesn't have to worry about noncompete agreements.
Bennet Kelley, founder of Internet Law Center in Santa Monica, said emerging companies, especially in Silicon Beach, clearly benefit from the state's lack of enforcement on noncompete agreements. But at the same time, it might set a dangerous precedent if out-of-state employers become unable to enforce contracts that abide by the laws of their home state.
"California is free to regulate this man once he comes to California from another place," Kelley said. "But I don't know if it necessarily should be a safe haven for people to defy other state's laws. That's the troubling aspect of it."
The issue – where California has become sort of a safe place for fugitives from certain contracts – Kelley added, is one he expects will be closely watched.
Indeed, Gallegos' case could set a precedent, she said, because no court in the state has published an opinion on the choice-of-law topic as it pertains to noncompete agreements.
That means the outcomes in similar cases from the past don't necessarily have any bearing on future claims brought in court.
"If I was an employer, I would want to know that I could recruit my competitor's people," Gallegos said.
Yet despite the Court of Appeals' decision, which Gallegos expects will come early next year, she said it's important for employers in California to remember that noncompete agreements may still be enforced in other states.
"California has always been pro competition," she said. "It wants to encourage employee mobility and it wants to allow California employers to hire the best talent in the world … but sometimes it's a race to the courthouse."
For reprint and licensing requests for this article, CLICK HERE.