Ringing Up VIPs
RETAIL: Luxury brands say exclusive lounges sit well with high-net-worth, celebrity customers who need their space.
Monday, November 9, 2015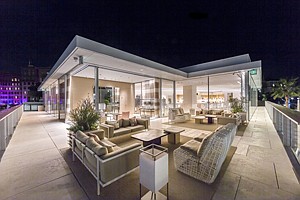 An outdoor terrace with views of the Hollywood Sign and replete with chilled champagne and plush couches. It sounds like a swanky rooftop bar, but it's the private shopping room at Louis Vuitton's Rodeo Drive flagship store – with doors that open only to select customers.
Think of it as Beverly Hills' version of a Las Vegas high-roller room.
The salon is just one of several VIP shopping lounges in Los Angeles built by the Mid-Wilshire office of Boston-based Shawmut Design and Construction. The team finished creating Louis Vuitton's salon earlier this year and is building out spaces for Beverly Hills boutique Gratus and Tiffany & Co. on Rodeo. Both will open next year.
The salons, which are cropping up at a time when many brick-and-mortar clothing retailers are seeing sluggish returns, are invite-only operations with offers coming directly from luxury labels.
Vincent Spataro, Shawmut's director of the Southern California region, said he noticed the trend about four years ago but has recently seen an increase in the number of luxury retailers looking to include these lavish additions.
"Larger flagships in important shopping districts like Rodeo Drive have really tried to incorporate these VIP rooms that cater to the high-net-worth individual," Spataro said. "We actually expect it (now) and we're surprised when it's not there."
Shawmut has built out private spaces for local retailers such as Saint Laurent, Tory Burch, Gucci, Ermenegildo Zegna and Barneys. These rooms, often with a wraparound terrace, include designer furniture, fine art and even a kitchen.
With luxury retail sales seeing incremental growth and major fashion houses such as Lanvin, Christian Dior and Balenciaga recently losing their top designers, many retailers are eyeing their big spenders – often willing to drop $30,000 on the newest Chanel handbag – to help boost sales.
"There is a bit of one-upmanship in this," Spataro said. "They're trying to outdo each other and offer more. I definitely think it's a correlation with their bottom line and sales figures."
Special treatment
Shawmut's L.A. office opened two years ago, focusing on luxury retail, hospitality and sports venues. The firm has a staff of 36.
Spataro said most of its salons are incorporated into extensive store renovations and take about four months to complete depending on the complexity of design.

Shawmut declined to disclose costs for the construction of its VIP salons but said it varies greatly depending on the size and scope of the area.
Burberry's four-story Beverly Hills location, which opened last year, has its VIP salon on the top floor. In addition to a wraparound terrace, kitchen, private bathroom and changing room, personal shoppers are also tasked with pulling together merchandise that might be of interest to customers. And, of course, the clothes can be served with a side of champagne or espresso.
The goal of most stores, said Spataro, is to make the exclusive salon feel like a living room as opposed to a traditional retail shop.
Meredith Kaplan, owner of luxury boutique Gratus, said she definitely strived to create a residential feel at her new store on Canon Drive.
"When walking into Gratus, we want clients to feel like they are shopping at their best friend's place," Kaplan said, adding that she hopes the intimate experience will carry over into the VIP salon. "(It) will be set up like the beautiful home closet that every woman desires."
Spataro said Tiffany's VIP salon will offer a private space for shopping and showcasing larger jewelry pieces in a lush and comfortable setting.
"It's more of a residential feel, so very plush carpeting and a lot of fabrics," Spataro said. "Typically, in some of these high-end luxury stores the sales floor is stone with very rigid, hard surfaces, but it changes when they're in the VIP room."
Some are more than just a room. Both Tory Burch and Saint Laurent decided to turn their entire third floors into a dedicated VIP space.
Robert Cohen, Southern California president of New York real estate brokerage Robert K. Futterman & Associates, said luxury retailers often take steps to ensure privacy and exclusivity for wealthy customers.
"If you look at Rodeo Drive, they've always had a (separate) VIP entry – whether it's Chanel or Ralph Lauren – and they all offer a concierge type of service," Cohen said. "I think it's interesting because it's been elevated with the renovations on Rodeo Drive."
It's a trend that is even spreading to other industries, he added.
"Hotels are offering more luxury suites and you're seeing this with air travel where you have your own private salon on airplanes," he said.
Spataro said the salons' value proposition boils down to providing exceptional customer service for high-net-worth individuals and celebrities, who want to be treated with extra care.
"It's spectacular – if you can get up there," he said.
For reprint and licensing requests for this article, CLICK HERE.