Bankrupt Markets Increase Stock of Store Sites
GROCERY: Analysts say properties open doors for rivals to enter new areas.
Monday, November 9, 2015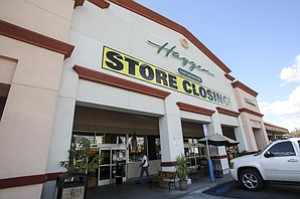 When Haggen Inc. employees began stocking fruits and bagging groceries at 146 former Albertsons supermarkets earlier this year, some donned dark green T-shirts emblazoned with the slogan: "Hello Haggen, goodbye hassle." That soon became "Hello bankruptcy, goodbye stores" for the small Bellingham, Wash., grocer that expanded too fast to stay in the black.
Now, Haggen is in bankruptcy proceedings to close more than 100 stores, 15 of them in Los Angeles, making room for various players to gain a toehold. And soon, more grocery real estate will be up for grabs: El Segundo's bankrupt Fresh & Easy chain announced last month that it will shutter its 97 stores in California, Nevada and Arizona, including about 30 L.A. sites.
That could reshape the L.A. grocery geography, which is already in flux from a boom of ethnic markets and e-commerce and continues to be a target of ambitious food retailers, both local and from out of town.
"Those shopping dollars have to go somewhere and they have to get split into smaller pool of retailers, which will be a tremendous opportunity," said Scott Burns, an executive vice president in the West L.A. office of Chicago commercial real estate brokerage Jones Lang LaSalle Inc.
One day, your neighborhood market could transform into a foreign discount brand specializing in schnitzel or tamales. Or it could turn into a warehouse grocer where you can get mineral water by the caseload. And don't be surprised to see a gourmet food shop move in, bringing aisles of chickenless vegan nuggets and an extensive line of prepared foods. Plenty of similar models have thrived and continue to succeed in Los Angeles – and there will be plenty of sites on the market where new and old players can bring their concepts.
"The L.A. market is very volatile," said Dave Heylen of the California Grocers Association. "It's about finding your particular niche and then being very good at meeting the needs of that particular group."
Commerce's Smart & Final and Gelson's Markets, based in Encino, have set out to claim more than one-third of the empty Haggen territory. A variety of other grocers – and maybe a couple of entrepreneurs aiming to flip supermarkets into, say, furniture outlets or discount clothing stores – could aim to acquire the rest, analysts say.
Contenders will be selected as part of Haggen's bankruptcy proceedings, with an auction set for Nov. 9. Haggen won't disclose which companies are in the running other than Smart & Final and Gelson's, but said in a statement that it is "pleased to report that it has received a number of bids from interested parties."
Smart & Final is going after 28 stores for $56 million, five of them in Los Angeles. Gelson's aims to nab eight California locations for $36 million, including a site in Santa Monica.

Home field
The acquisitions could be a slam dunk for both companies, said industry analysts, because the chains would not need to start from scratch in Southern California. Procurement and distribution would remain the same. Advertising would already be in place and name recognition as well. And the locations – which Smart & Final and Gelson's have cherry-picked from a vast supply – would be geared toward their target customers.
That's a big advantage over newcomers such as Haggen and Fresh & Easy.
Haggen came to town when Albertsons merged with Pleasanton's Safeway Inc. last year, and handed nearly 150 stores to Haggen to avoid violating antitrust laws. But customers complained of high prices, and analysts said Haggen never made a strong marketing push.
Fresh & Easy was British food giant Tesco's attempt to conquer American pantries, but local shoppers never caught on to its prepackaged produce and other quirks. Billionaire Ron Burkle's Yucaipa Cos. bought the company in 2013 but couldn't save it, and the chain never made a profit in its nine-year run before last month's bankruptcy announcement.
But the very fact that Haggen and Fresh & Easy were driven to make it in Los Angeles attests to the strength of an area unique for its diversity and sheer size.
"Due to the population density, the extreme variation in consumer backgrounds, needs and interest in food culture, we tend to see many competitors try L.A. as a proving ground," said Gelson's Chief Executive Rob McDougall.
That has other out-of-town grocers salivating at the opportunity to get into Los Angeles, despite Haggen's and Fresh & Easy's high-profile flameouts.
Grocery Outlet in Emeryville said it plans to open 14 stores in greater Los Angeles in the next year. German company Aldi said it would open nine in Los Angeles – part of its plan to open five times that many throughout Southern California by the end of next year.
Bill Coyle, Grocery Outlet's vice president for real estate, said the company would not seek Haggen spaces because they are bigger than its preferred footprint. The chain had its eye on the more modestly sized Fresh & Easy properties, instead.
Aldi did not say if it would seek Haggen spaces.

Burns, the retail broker, said Haggen and Fresh & Easy's exit will benefit all grocers interested in Los Angeles.
"Five months ago they were probably looking at the tight inventory and being frustrated," he said. "Now there's great inventory on the market."
Grocer growth
Two large local chains also see the former Haggen stores – some of which are in desirable markets such as Santa Monica – as rare opportunities to quickly meet growth goals.
Smart & Final, which is majority-owned by Century City finance giant Ares Management, has grown steadily since going public in September of last year. The company, which has 270 stores in six states, has recently focused on opening more Extra!-branded stores, smaller than the company's older, warehouselike markets. Smart & Final declined to comment, but said in its second-quarter earnings statement that, by the end of the year, it plans to open 11 Extra! stores and convert five traditional locations into the same style.
Gelson's CEO McDougall said the chain of 18 stores plans to expand within Southern California but stick to a relatively small footprint, which makes some of the former Haggen locations – in the heart of Gelson's territory – so appealing.
"We can be first to market to launch great new products, and we can buy in fresh and tasty local produce, because we don't have to worry about buying for a huge region," he said.
But Smart & Final and Gelson's still face some risk, said David Livingston of supermarket research firm DJL Research in Milwaukee, since they will each take on a large number of stores at once and face challenges such as training a slew of new employees.
And because of the Haggen snafu, Livingston doesn't think Smart & Final and Gelson's can count on retaining previous clientele.
"It's like going brand new, because Haggen chased off so many customers," he said.
For reprint and licensing requests for this article, CLICK HERE.