Bankrupt Markets Increase Stock of Store Sites
GROCERY: Analysts say properties open doors for rivals to enter new areas.
Monday, November 9, 2015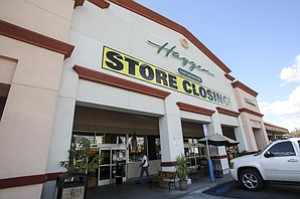 When Haggen Inc. employees began stocking fruits and bagging groceries at 146 former Albertsons supermarkets earlier this year, some donned dark green T-shirts emblazoned with the slogan: "Hello Haggen, goodbye hassle." That soon became "Hello bankruptcy, goodbye stores" for the small Bellingham, Wash., grocer that expanded too fast to stay in the black.
Now, Haggen is in bankruptcy proceedings to close more than 100 stores, 15 of them in Los Angeles, making room for various players to gain a toehold. And soon, more grocery real estate will be up for grabs: El Segundo's bankrupt Fresh & Easy chain announced last month that it will shutter its 97 stores in California, Nevada and Arizona, including about 30 L.A. sites.
That could reshape the L.A. grocery geography, which is already in flux from a boom of ethnic markets and e-commerce and continues to be a target of ambitious food retailers, both local and from out of town.
"Those shopping dollars have to go somewhere and they have to get split into smaller pool of retailers, which will be a tremendous opportunity," said Scott Burns, an executive vice president in the West L.A. office of Chicago commercial real estate brokerage Jones Lang LaSalle Inc.
One day, your neighborhood market could transform into a foreign discount brand specializing in schnitzel or tamales. Or it could turn into a warehouse grocer where you can get mineral water by the caseload. And don't be surprised to see a gourmet food shop move in, bringing aisles of chickenless vegan nuggets and an extensive line of prepared foods. Plenty of similar models have thrived and continue to succeed in Los Angeles – and there will be plenty of sites on the market where new and old players can bring their concepts.
"The L.A. market is very volatile," said Dave Heylen of the California Grocers Association. "It's about finding your particular niche and then being very good at meeting the needs of that particular group."
Commerce's Smart & Final and Gelson's Markets, based in Encino, have set out to claim more than one-third of the empty Haggen territory. A variety of other grocers – and maybe a couple of entrepreneurs aiming to flip supermarkets into, say, furniture outlets or discount clothing stores – could aim to acquire the rest, analysts say.
Contenders will be selected as part of Haggen's bankruptcy proceedings, with an auction set for Nov. 9. Haggen won't disclose which companies are in the running other than Smart & Final and Gelson's, but said in a statement that it is "pleased to report that it has received a number of bids from interested parties."
Prev Next
For reprint and licensing requests for this article, CLICK HERE.