Skeptics Zap Wireless Charging
TECHNOLOGY: Some question if uBeam system just hot air.
Sunday, November 8, 2015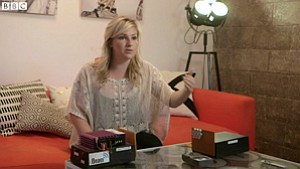 Meredith Perry has bold ideas.
For starters, there's her notion to replace intercity car commuting with rides on small personal blimps. Then there's her idea to mix shampoo with a material used to waterproof electronics, so that you don't need an umbrella when it rains.
But perhaps the boldest – and most controversial – is Perry's attempt to wirelessly charge electronics, such as cellphones, using ultrasonic waves sent through the air.
That idea is being tackled by the 26-year-old's Santa Monica startup, uBeam Inc., which has raised millions in funding from a number of big-time venture capitalists, including Menlo Park's Andreesen Horowitz, Santa Monica's Upfront Ventures, Peter Thiel's Founder's Fund as well as billionaire Mark Cuban and Yahoo Inc. Chief Executive Marissa Mayer.
However, despite being lauded as the next big thing in energy technology, the feasibility of uBeam's plan is increasingly plagued by skepticism.
Converting ultrasonic waves into electrical energy is rudimentarily possible – and indeed not novel – experts say, but absent a technological breakthrough, they are doubtful it can perform as uBeam claims.
"It seems like an ungodly inefficient way to transmit energy," said Leonard Bond, a physicist and professor of aerospace engineering at Iowa State University, who noted nothing could be deemed impossible until uBeam showed a working cellphone prototype, which it has not done. "Maybe these guys get an amazing award for having done something, but I'm not convinced yet."
Despite such obstacles, uBeam has raised $23.2 million from investors. The company is ramping up to manufacture millions of units and will ship a product by the end of next year, said Perry in a September interview with the Business Journal. Perry previously said uBeam would be available in fall 2011 and also in spring 2013.
Unfortunately for uBeam, it is now working in the shadow of the recent Theranos Inc. debacle, and rightly or wrongly is being compared to it.
"It reminds me of other cases. There is this company Theranos," said Bernard Boser, a professor of electrical engineering and computer science at UC Berkeley.
Palo Alto's Theranos said it could detect a wide range of diseases with just a drop of blood, claims which attracted more than $400 million in investment and a valuation of more than $9 billion. However, citing a need to protect proprietary technology, the company refused to submit its work to a peer-reviewed medical journal. Last month, the Wall Street Journal reported a gap between what Theranos claimed publicly and the actual, dismal performance of its technology.
For reprint and licensing requests for this article, CLICK HERE.
Prev Next