HelloTech's College Kids Explain Wi-Fi to the Over-40 Set
Tuesday, May 26, 2015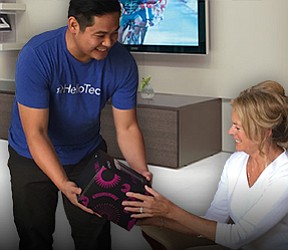 HelloTech, a West L.A. in-home technical support service startup that targets customers in their late 40s and older, has raised $2 million in additional capital and launched service in a 7-mile radius around UCLA.
Chief Executive Richard Wolpert, who is stepping down from his role as Managing Partner at accelerator Amplify.LA to focus fulltime on HelloTech, said in an interview, excerpts from which are below, that the proliferation of Internet-connected devices made the time right to found an in-home technical support company.
The company is backed by $4.5 million in investments from Collaborative Fund, Baroda Ventures, Greycroft Partners, Silicon Valley Bank, Accel Partners, Upfront Ventures, CrossCut Ventures and Amplify.LA.
HelloTech is taking on existing in-home technical support companies such as Best Buy's Geek Squad by focusing on customer service, authoritative product upselling and an inexpensive, yet well-trained workforce of college students working on a contract basis. It aims to serve adults in their late 40s and beyond, a population that is hungry for technology and is willing to pay for technical support.
Its base is limited to the area around UCLA, where most of its technical support staff goes to school, but Wolpert said the company will be eyeing expansion after honing and testing the service for a while longer. To do that, he said the company must execute on several fronts.
Question: Service such as Geek Squad already provide in-home tech support. Why do we need HelloTech?
Answer: One of the things we are doing is more transparent and on-demand scheduling. Everything is scheduled within 24 hours. We give you an exact time when we will show up and there's complete transparency on pricing, which is $79 per hour. We are going to have transparency on who your tech is, their rating and what are their skills. It's a bunch of things that add up to a big difference.
What areas do you see as especially ripe for in-home technical support?
Five years ago the PC or Mac was the Internet connected device in the house. Now you have a mobile phone, tablet computer, thermostat and door locks. The management of all of these products and the Wi-Fi connectivity for these products has gotten more complicated. I think it is going to get even more complicated.
How do you handle up-selling products during service visits?
Our approach is to take the consultative approach. Explain, for example, that we believe it's a good idea for everyone to have identity protection and remote online backup. If after we explain that and they want we can sign them up for … the two we have selected as best of breed for their respective categories. If they don't want to sign up that's totally fine. We have a leave-behind that tells them how to sign up at their leisure and how to get our discounted rate.
Why choose college students as your support techs?
They sort of come to us as pre-educated on the basics of tech. They are a very underutilized workforce. Most college students end up working at Starbucks and Jamba Juice, but with us they can set their own schedule and we pay on average $30 per hour. Also, there is something about getting tech support and helping a student get through college that we thought was appealing.
Technology reporter Garrett Reim can be reached at greim@labusinessjournal.com. Follow him on Twitter @garrettreim for the latest in L.A. tech news.
For reprint and licensing requests for this article, CLICK HERE.